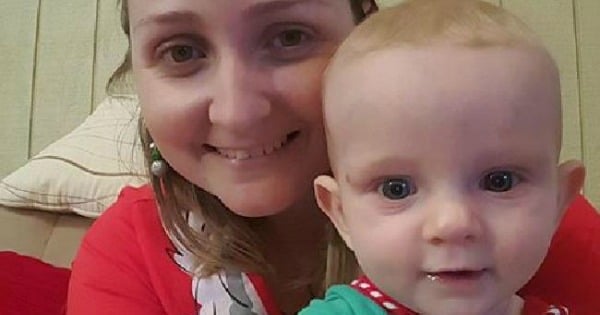 The woman who accidentally ran over and killed her seven-month-old son has shared her grief in a heartbreaking tribute to her baby boy.
Danielle Thompson was reversing her 4WD at St Pauls Drive, Woodridge, just before 2pm on Friday afternoon when she struck the pram her son was inside of.
Darcy Thompson was rushed to Brisbane's Lady Cilento Children's Hospital in a serious condition but died a short time later.
Ms Thompson described the tragedy and wrote of her grief in an article published in the Sunday Mail.
"We have lost our son, Darcy Alexander, our precious, beautiful, bubbly, intelligent, generous, loving baby far, far, far too soon and we will be forever the poorer whilst heaven will be more the richer for his presence," the Acacia Ridge resident wrote.
"We miss him with every fibre of our beings, and whilst grief in its many forms, ebbs and flows, the memories of our beautiful boy will be etched in our hearts for our lifetimes until we meet him again in Paradise.
"Darcy, we love you infinitely, we miss you utterly, and our hearts ache for you."
Ms Thompson said she was attending the funeral of a family member and had taken Darcy with her, while her other two sons were in the care of a babysitter.
"Funeral attendees rushed to help my baby and I, administering CPR and calling 000," she described.
"Ambulance crews attended and worked quickly, doing everything in their power to save him. They transferred him to an ambulance for Lady Cilento Children's Hospital, where the emergency team fought harder still to keep him in this world."
The mum also shared details of the family's Christmas celebrated just days earlier.
"Darcy, like all happy, clever babies, needed some help opening his gifts and didn't quite know what was going on, but enjoyed the atmosphere all the same."
"He then carried on with his extended family, through what was a very joyful and memorable Christmas for them all."
"Sadly, his first Christmas proved to be his last."
Queensland Police are investigating the incident but say no charges are expected to be laid.
"The investigations are ongoing but it's unlikely they're going to charge a mother over something like this," a police spokeswoman said on Saturday.