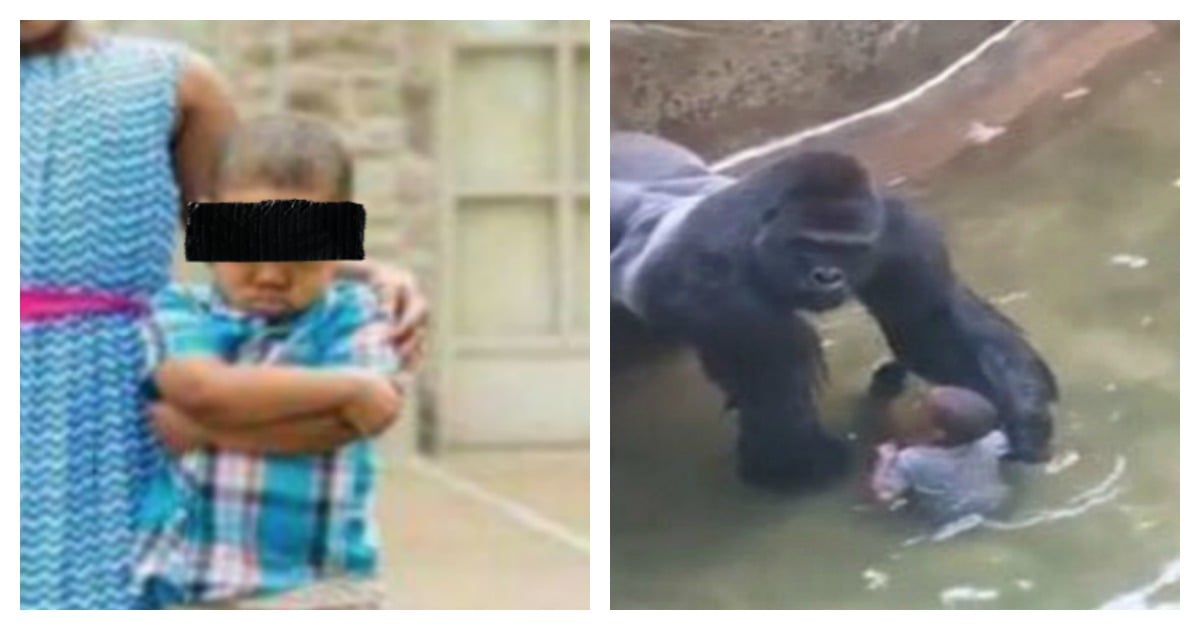 "Accidents happen."
A child falls into a gorilla enclosure.
An endangered animal is shot in the interests of protecting a child.
The world mourns the loss of the animal while the bitter and angry turn on the mother of the boy, harassing her through social media, calling for charges to be lain again her and some even suggesting she should be shot.
Accidents happen.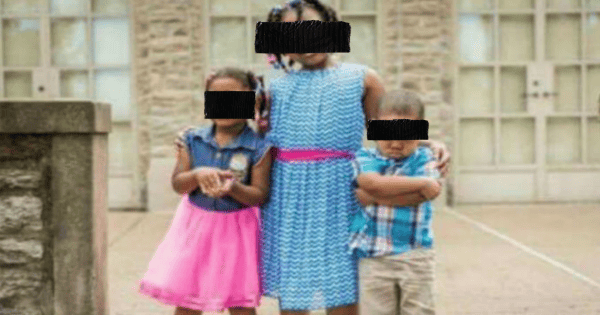 The little boy who fell in the gorilla enclosure with his sisters. Via Facebook.
The mother of the little boy who fell into the gorilla enclosure at the Cincinnati Zoo and Botanical Gardens has responded to claims she was 'irresponsible' and 'should have been looking after her child' in a public Facebook post.
The mother of three wrote a passionate response where she thanks those people who had offered messages of support and defending herself against her critics.
Michelle Gregg wrote:
"I want to thank everyone for their thoughts and prayers today. What started off as a wonderful day turned into a scary one."
She goes on: "For those of you that have seen the news or been on social media, that was my son that fell into the gorilla exhibit at the zoo. God protected my child until the authorities were able to get to him."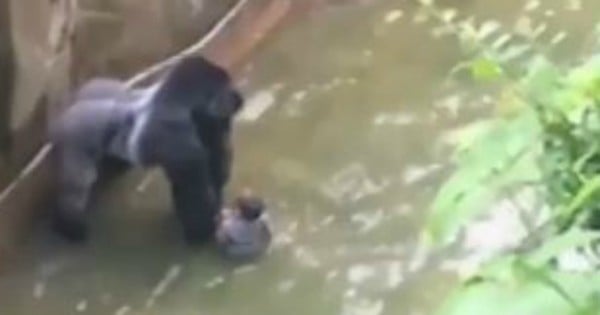 Harambe with the little boy. Via YouTube.
Ms Gregg says her son, aged only 4, was taken to hospital  and assessed but was then released.
"My son is safe and was able to walk away with a concussion and a few scrapes…no broken bones or internal injuries,"
"As a society we are quick to judge how a parent could take their eyes off of their child and if anyone knows me I keep a tight watch on my kids," she added.
"Accidents happen but I am thankful that the right people were in the right place today."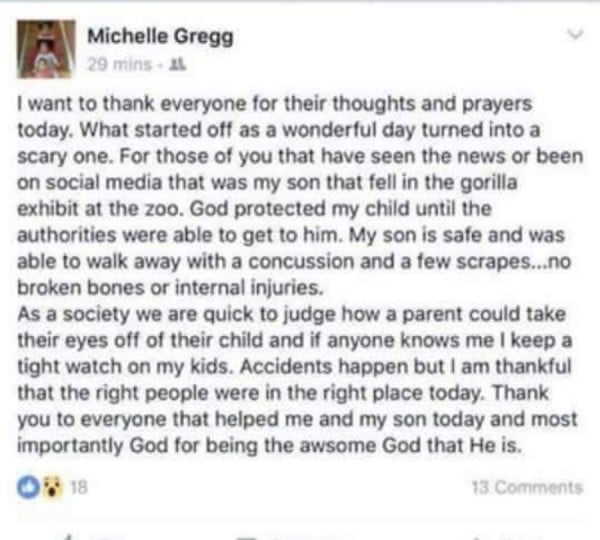 After the four-year-old entered the enclosure, fearing for his life the zoo's dangerous animal response team shot and killed Harambe.
Thane Maynard, director of the Cincinnati Zoo & Botanical Garden said though Harambe didn't attack the child, the animal's size and strength posed a great danger.
"In an agitated situation, it may take quite a while for the tranquilizer to take effect," he said, "At the instant he would be hit, he would have a dramatic response."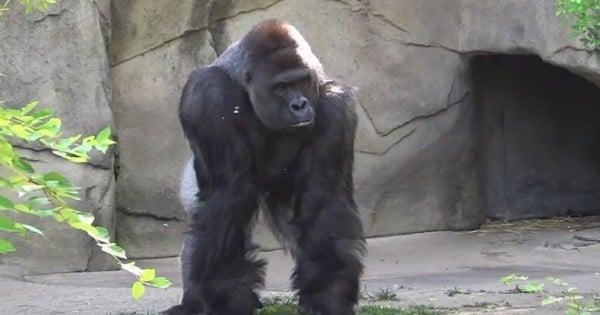 "The gorilla was not, in my eyes being harmful." said a witness.
But a petition online is calling for Ms Michelle Gregg to be investigated.
In it it says "Michelle was not watching her child after the child spoke about "swimming" in the gorilla enclosure. Because this mother couldn't watch/control her child, an almost extinct gorilla is now dead."
There are varying reports as to how the little boy came to be in the enclosure with a witness telling CNN that the boy was jokingly telling his mother that he will go into the water. "I don't think it was as easy as standing up and falling in. He actually had to climb under something, through some bushes and then into the moat," she said.
Since her statement her Facebook page has been removed, with some speculating at her lawyers request.
Meanwhile amazing new footage appears to show Harambe protecting the little boy and even holding his hand moments before he was shot.
Some experts have claimed that it was the screams from eyewitnesses that inflamed the situation and caused Harambe to pull the little boy across the water.
A witness at the Cincinnati Zoo, Brittany Nicely told ABC News :"The gorilla rushed the boy, but did not hit the boy. He almost was guarding the boy, was protecting him."
"The gorilla wasn't hitting him, wasn't hurting him. He was curious. He was checking him out, looking at his hands," she said.
"The gorilla was not, in my eyes being harmful."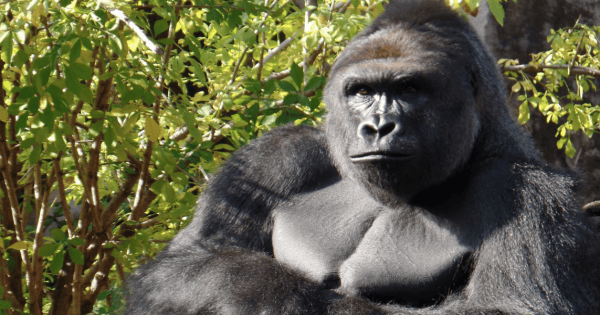 "I've seen him take a green coconut, which you can't bust open with a sledgehammer and squish it like this"
But a Gorilla expert, Jack Hanna, the Director Emeritus of the Columbus Zoo in Ohio, and the host of a series of television shows about wild animals said the decision to shoot Harambe wasn't a hard one.
"I've seen him take a green coconut, which you can't bust open with a sledgehammer and squish it like this," Hanna told Good Morning America about Harambe.
"You're dealing with either human life or animal life here. So what is the decision? I think it's very simple to figure that out."
Accidents happen right?