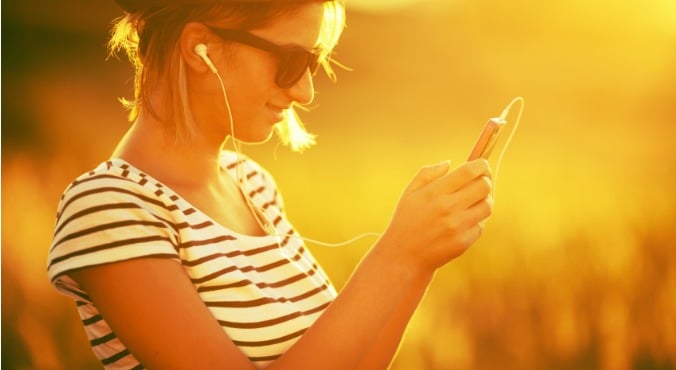 Image: iStock.
Workout playlists become tired and boring in less time than it takes to complete a burpee, especially if you tend to be an incredibly lazy busy and important person, and thus forget to mix things up.
Well, it's time to shake off that same ol' lineup of songs, and we're here to help you do so. You're so very welcome. No, really, don't mention it.
RELATED: The ultimate workout playlist for 2015.
The team at Spotify Australia have done your homework for you, compiling the 10 most popular workout songs in the country right now. They've done this by peeking at the data of Aussie Spotify users who streamed songs from playlists containing the words "Work out", "workout", "working out", "fitness", "running", "run", "jog", "jogging" or "gym".
It should come as a shock to nobody that Mark Ronson's inescapable earworm/soundtrack to every viral video currently trending on Youtube, Uptown Funk, snatched the number one position.
If you can't fight the urge to stop your workout for a dance break when it comes on your iPod, we can't say we blame you. In fact, The Glow enthusiastically endorses such behaviour.
Here's the full list — you're sure to find a beat you like:
1. Uptown Funk - Mark Ronson
2. Blame - Calvin Harris
3. Bang Bang - Jessie J, Nicki Minaj, Ariana Grande
4. Sugar - Maroon 5
5. Ugly Heart - G.R.L.
6. Outside - Calvin Harris
7. Heartbeat Song - Kelly Clarkson
8. Geronimo - Sheppard
9. POWER - Kanye West
10. 'Till I Collapse - Eminem
RELATED: This is the ultimate runner's playlist
And if you don't really need a workout playlist right now, this one will easily double as your 'getting ready for a night out'/'solo dance party in the kitchen while cooking dinner' soundtrack. Here it is on Spotify. Enjoy:
What are your favourite songs to exercise to right now?
You've got a brand new playlist to exercise with, so why not team it with some new gear?