Every year, one of the world's largest parenting sites, BabyCenter, releases a list of the most popular baby names of the year, and after collecting data from more than 742,000 parents, tells us what they've noticed as the biggest naming trends of the year.
In 2018, the lists for boys and girls looks like this: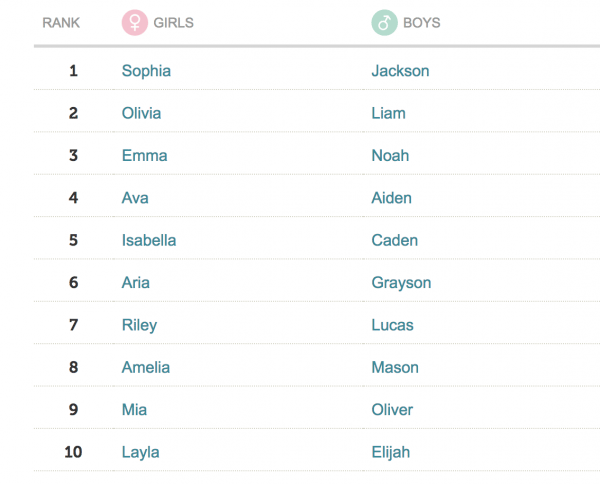 Sophia is number one for the ninth year in a row for girls, and Jackson holds his top position for the sixth year. Oliver and Layla are both new entrants in the top 10, removing Logan and Zoe.
Everly, Isla, Leo, and Carson were the fastest climbing names of the year.
Here are the top emerging trends which BabyCenter noticed in their data.
Names inspired by Fortnite.
Yes, Fortnite - the online game, which this year became a cultural phenomenon, with more than 125 million players worldwide. So it was inevitable parents would be influenced by it.
For example, Ramirez - a soldier character in the game - increased in popularity by 57 per cent. BabyCenter also found the names of the "skins" used to costume players were also popular: Leviathan is up from 46 per cent for boys, Bunny increased by 30 per cent for girls, and Rogue, 47 per cent for girls and 21 per cent for boys.
Even the professional Fortnite player Dakotaz's name featured on the list, and increased by 13 per cent for girls and 6 per cent for boys, from the previous year.
The Kardashians.
The Kardashian/Jenner family has been influencing baby names ever since North was born to Kim and Kanye in 2013. This year, there was a lot of baby action, with the births of  Stormi (Kylie), True (Khloe), Dream (Rob) and Chicago (Kim).