James and Beatrice Shanley opened the hotel in the late 19th Century, and welcomed notable guests like Thomas Edison and Eleanor Roosevelt.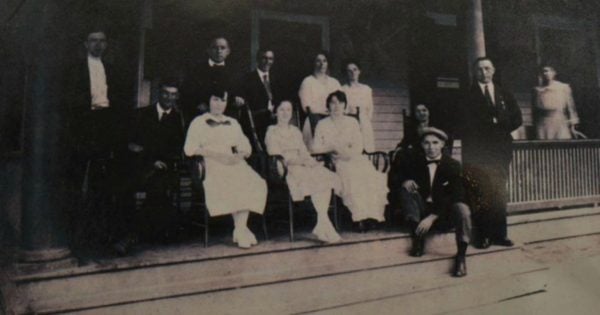 But despite the success of the hotel, tragedy struck their family. Beatrice birthed three children, all of whom died before their first birthday.
The hotel barber, who lived in The Shanley, lost his four-year-old daughter Rosie in 1911, when she went for a walk one afternoon and fell to her death into a deep well.
A few years later, Beatrice's sister died of influenza in one of the hotel rooms.
LISTEN: Ghost stories from a death nurse, on Meshel Laurie's Nitty Gritty Committee. Post continues below. 
The Shanley Hotel website claims that throughout the turn of the century, "there were several other accidental deaths, missing persons and rumours of murder..."
It is now believed that Rosie, Shanley, Shanley's brother Andrew, Beatrice, her sister Esther, and many others haunt the premises.
The most haunted room of the hotel is rumoured to be the 'Bordello', which was built in the 1920s to sell bootleg liquor during the Prohibition period. Many guests report feeling sick as soon as they enter.