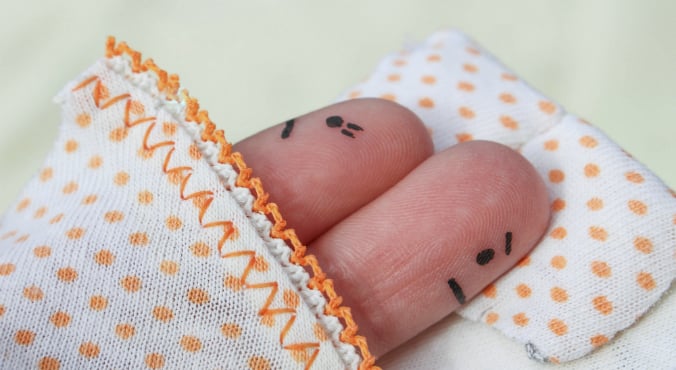 Image: iStock.
A greater frequency of sex with your partner doesn't necessarily equate to happiness, according to a new study. That's right, everything you've ever learned from those horny teen movies, Calvin Klein ads and Craig David songs (7 Days, anyone?) is wrong.
A new study, conducted by Carnegie Mellon University and published in the Journal of Economic Behavior & Organization, brought us this dire news. Well, I guess the direness of the situation all depends on whether you like sex or not.
Related: The under-eye concealer trick that will help you fake awake.
If you're not a nymphomaniac, or couldn't care less if you only had sexy times once a week (if that) then you'll declare, "I KNEW sex would make you all miserable!".
Nothing wrong with hating sex, guys. (Post continues after gallery.)
The most famous fake orgasms
According to the researchers, when married couples had 40 per cent more sex than usual, their happiness and mood levels declined.
You would think that the results of this study would be the usual: people who have more sex are happier, richer, better, blah, blah, blah. But not this time!
Related: What your favourite celebrities looked like at their school formals.
"Those induced by the experimental condition to have more sex displayed a lower mood during the course of the experiment than those in the control group," the researchers explained.
In layman's terms, that translates to "more sex = more sad".
Rachel Clements, psychologist and director of psychological services at the Centre for Corporate Health, says that good sex is all about the motivations behind it.
"Our body's response is that, if we have to do something, we want to do the opposite," she explains.
"If we know we have to exercise or go to the gym four times a week, we won't do it, but if we say to ourselves, 'It will be good to do this,' then that is more motivating, because it is meaningful."
Related: 6 (very convincing) reasons older women are better in bed.
128 married men and women, between the ages of 35 and 65, participated in this sexy study, that went for 3 months. They were separated into two groups: Group 1 (who we will refer to using the scientific title, Happy Sex Group) were told to just carry on their sex lives as per usual. Group 2 (Sad Sex Group) were told to double their frequency of sexing.