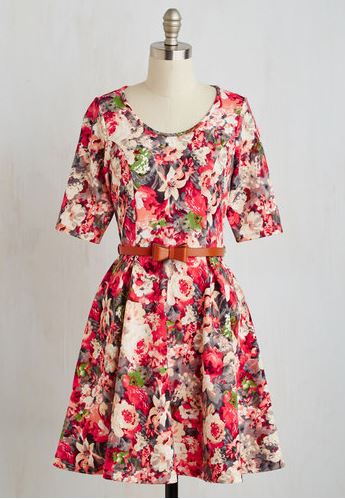 What's that you say? All of your vintage wedding dreams just came true?
If there's one thing brides love more than seating chart plans it's wedding dress shopping.
*crickets*
Wedding dress shopping usually goes a little like this: find a dress you adore, try it on. Your best friend and maid of honour gets teary, your mother is in full-on sob mode and you know you've finally found 'the one'. Then you look at the price tag.
Turns out 'the one' could by a small island off the coast of Africa.
This is where Modcloth comes in. Akin to online fashion giant ASOS, Modcloth is like their younger, quirkier, vintage-inspired American sister. Known for their vintage styles and 1950's silhouettes, Modcloth has been a firm favourite among fashion lovers since its 2002 inception.
And they've just released their first bridal collection.
True to form, Modcloth's collection of 30 wedding dresses and over 50 bridesmaids dresses are as elegant as they are eclectic. With the wedding dress prices starting at just $230 AUD and bridesmaid's attire at $90 AUD, they're as cheap as a Saturday night out in Sydney.
The best bit? Modcloth's dedication to providing stylish plus-size wear extends to their bridal attire too, with sizes 6-30 available in every style.
The collection also houses over 70 bridal footwear, from these cute flats:
To these wear-all-day heels:
The team over at Modcloth have even #blessed us with wedding guest dresses, bridal accessories, wedding gifts and decor and bridal intimates, you know, for when you need to nip of during the reception for a sneaky sesh.
Click through the gallery below for a selection from the Modcloth bridal collection. Post continues after gallery.