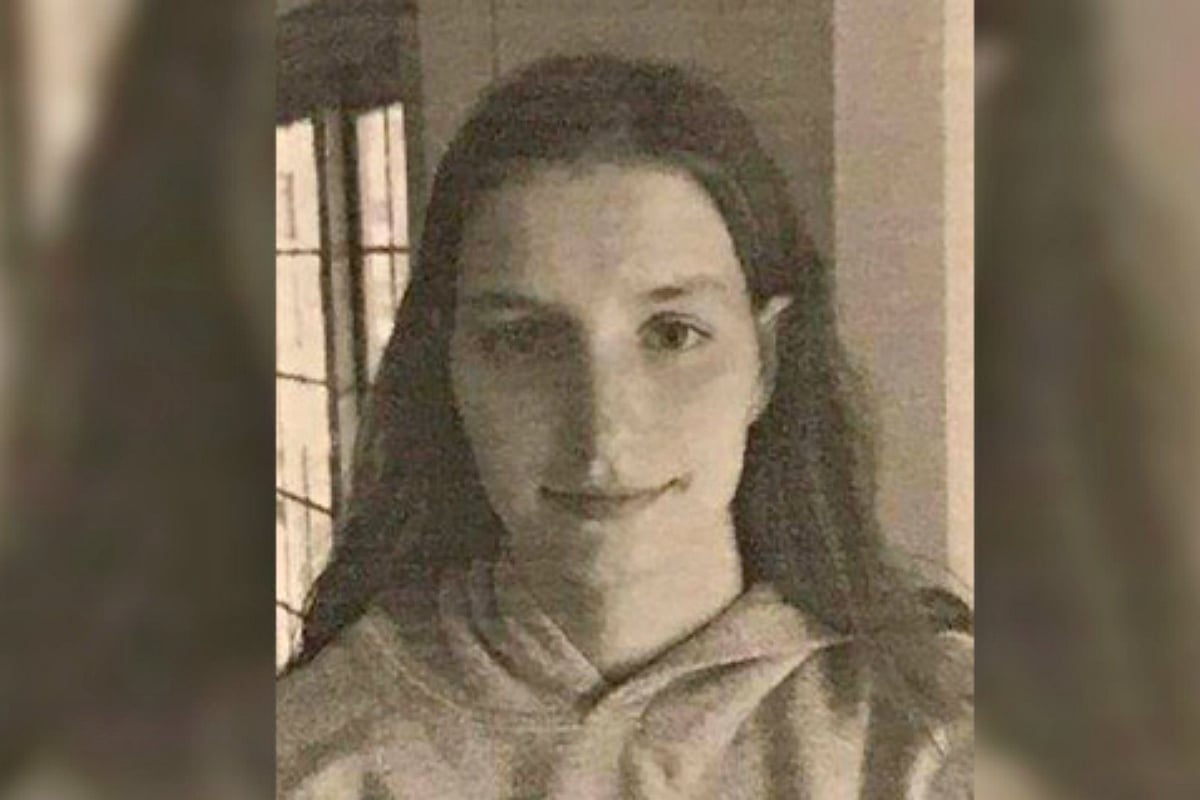 Ryle Gordon and his step-dad Chris Trumbich navigated the dirt road to their family cabin. The pair were on a hunting trip in Hayden, Ohio, and were keeping their eyes out for signs of deer along the way.
Roughly six kilometres down the track something caught Chris' eye. Some kind of pattern on the road ahead. They stopped the car to look.
A message had been etched into the road. Just four letters.
HELP.
Chris figured it was probably other hunters, local station KHQ reported. Maybe signalling to each other for help carrying carcasses. But Ryle, 15, went cold. Something "felt creepy", and so he snapped a photo just in case.
Then he remembered.
Kathryn.
Kathryn Ogle. Or 'Katie', as her loved ones called her. Ryle had seen a Kootenai County Sheriff's Office Facebook post about her two days earlier on November 3.
The 19-year-old had wandered off from her new family home and vanished.
"Reports indicate Kathryn left without shoes or appropriate attire for the elements and was last seen walking towards the heavily wooded area close by," the appeal read. "Kathryn is known to have multiple medical alerts and the cognitive ability of an approximate 10-12 year old. She was last seen wearing a grey sweatshirt and black pants. Kathryn is described as 5'4" and [45kg], with green eyes and blonde hair.
"Kathryn recently moved to the [address] and is not familiar with the area."
Kilometres from the scratched-in message, Ryle and Chris found the search party, and showed them the picture. The group swarmed toward the area. They turned off car engines and machinery, and the woods fell silent.
A rescue worker called out. "HELLO?"
A faint voice came back over a ridge. "Hello."
According to KHQ, Katie had been sheltering in Chris' cabin, living off supplies. She looked frightened when she emerged, but according to the Kootenai County Sheriff's Office, she was in "relatively good condition".
"Me and my family just want her to know that we aren't mad for her coming into our cabin. She is alive and that's what matters," Ryle wrote on Facebook. "So many things this poor girl could be a happy about, being alive, being warm, getting help, etc… and the poor girl is worried about getting in trouble."
Though he and his step-father are being praised widely in their community and on social media for their role in finding Katie, Ryle added that it was simply a matter of "right place at the right time".
"Everything happens for a reason, people," he wrote. "Don't forget that."