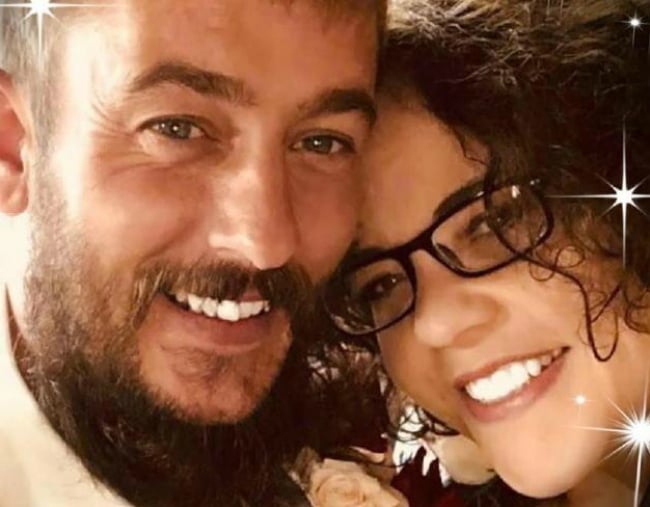 – With AAP
1. "Missing" father turns up married to new wife in another country.
Cheryl Cowie received a heart-wrenching shock when her partner of 27 years was located days after going missing.
But Malcolm McGregor wasn't dead – he was found married to another woman. The British dad told his childhood sweetheart he was visiting a friend on July 20 in a town just an hour's drive away from their home in Motherwell, Scotland, The Sun reports. When the 38-year-old didn't return, the worried mum reported him missing.
A few days later the 37-year-old learned the truth when her partner posted photos online – photos of his wedding day.
Malcolm had flown all the way to Utah, USA, to meet and marry a woman he'd met on Facebook and fallen in love with, Bell Valek, 35.
Cheryl's friend told The Sun his family were hurt and confused.
"To say his family are devastated is an understatement. They just don't know what's got into him."
2. Woman found guilty of killing mother-of-four in plot to take her children.
An infertile woman who planned the murder of a vulnerable Victorian mother to take custody of her children maintains she is innocent of the killing.
Christine Lyons, 47, was found guilty by a Supreme Court of Victoria jury in June of murdering Samantha Kelly, as part of a plan with her lover Peter Arthur to send the 39-year-old "on a permanent holiday".
Arthur is serving a 22-year prison sentence after he fatally struck the disability pensioner and mother-of-four to the head repeatedly with a hammer.
Christine Lyons was also found guilty of attempted murder over a failed attempt to kill her days earlier with a cocktail of prescription and over-the-counter drugs.
Her former lover Ronald Lyons, who is not related to her, was cleared of murder by the jury but convicted of attempted murder.
Ronald, 46, was also found guilty of assisting an offender after buying two shovels and helping Arthur bury the body in a dry creek bed.
Christine had a hysterectomy in 2014 after suffering cancer and reportedly had a "powerful desire" to have a family.
Mr Kilduff argued Christine did "not strike the fatal blow" and that Arthur had an opportunity to withdraw from the agreement.
He said Arthur and was not working below Christine, "the matriarch", as part of a "pecking order".
Ronald's defence barrister Jarrod Williams argued his client's role "was somehow less involved".
But Justice Stephen Kaye described his conduct, including crushing pills into a drink as part of an attempt to murder Ms Kelly, as "absolutely deplorable" and "extremely heartless".
"The whole motive - it's evil, it's bizarre," he said. "There's not even any relationship with Christine and yet he chose to join in."
In a victim impact statement read to the court, Ms Kelly's mother Vivien spoke of her grief at not having the chance to repair her relationship with her daughter.
"I wish I had been closer to her to protect her from you," the statement read. "These thoughts haunt me."
She also told Lyons: "I hope Samantha haunts you until the day you die."
Ms Kelly's brother Michael and his partner said they had taken custody of his sister's "four very traumatised children".
Christine and Ronald Lyons will be sentenced at a date to be determined.
3. Italian Prime Minister declares state of emergency after Genoa bridge collapse.
"Many motorways need maintenance but often we are told that we cannot spend money because of European constraints".

In the wake of Genoa's bridge collapse, Italy's Deputy PM Matteo Salvini says Italy's infrastructure spending is being held back by EU rules. pic.twitter.com/Z526boGaNp

— Channel 4 News (@Channel4News) August 15, 2018
Italian Prime Minister Giuseppe Conte has declared a state of emergency covering the region around Genoa after a bridge collapse killed dozens of people and severed the port city's mainland corridor with southern France.
Conte, speaking at a news conference in Genoa on Wednesday, said he made the declaration after a request from regional authorities.
He also took aim at toll-road operator Autostrade, a unit of the Atlantia group, which operated the bridge as part of a stretch of the A10 motorway it manages.
Conte said the firm had been responsible for ensuring safety on the bridge and the government would not await the outcome of a current criminal investigation into the disaster before taking action.
Earlier, the transport minister said the firm's A10 motorway concession should be revoked and it be hit with heavy fines.
Rescuers are still searching for survivors among towering slabs of concrete wreckage after the bridge collapse killed 42 people.
The 50-year-old bridge gave way during torrential rain on Tuesday, sending dozens of vehicles crashing onto a riverbed, a railway and two warehouses.
As cranes moved in to shift truck-sized chunks of broken concrete, hundreds of firefighters searched for survivors, while public shock and grief turned to anger over the state of the 1.2 km-long bridge, completed in 1967 and overhauled two years ago.
Italian Transport Minister Danilo Toninelli, visiting the disaster scene, said Autostrade would have to contribute to the cost of its reconstruction as well as pay heavy fines.
But Autostrade said it had done regular, sophisticated checks on the structure before the disaster, relying on "companies and institutions which are world leaders in testing and inspections" and that these had provided reassuring results.
"These outcomes have formed the basis for maintenance work approved by the Transport Ministry in accordance with the law and the terms of the concession agreement," it said.
4. Parliamentary inquiry into MyHealth will look at controversial records system.
Good news: the Senate has just agreed to Labor's call for a comprehensive inquiry into the My Health Record. Let's fix this mess.

— Catherine King MP (@CatherineKingMP) August 15, 2018
The security measures around Australia's controversial e-health records system will be examined in a parliamentary inquiry.
My Health Record came under fire when it was due to be fully rolled out over concerns people's data would not be protected adequately.
The government on Wednesday supported the Greens' reference to the Senate's community affairs committee - identical to one proposed by Labor for another committee - which will look at privacy concerns and other issues with the system.
The decision to switch My Health Record from opt-out to opt-in will come under the microscope, as will third-party access to data.
Health Minister Greg Hunt has promised to change laws so police and government agencies will need a court order to obtain patient data.
Greens leader and doctor Richard Di Natale said there were serious concerns around the My Health Record system.
"The government has shown itself to be incapable of protecting the privacy of citizens on a range of issues," Senator Di Natale said.
Liberal frontbencher James McGrath said the committee would show the benefits for patients and doctors.
"This reference will also provide an opportunity to address any misconceptions or concerns about the My Health Record system," Senator McGrath said.
The system was released for national public access last month after a six-year trial, with legal experts since warning of a loophole that could put family violence victims at risk.
5. Crop farmers feel forgotten as their plants turn to dust.
Struggling crop farmers who feel forgotten amid NSW government handouts to drought-stricken graziers have been assured help is on the way.
Images of starving livestock in desolate paddocks have become synonymous with the terrible drought ravaging NSW.
But those waiting for crops to grow from dustbowls, including fifth-generation farmer Neil Westcott near Alectown, argue they simply aren't getting the same level of assistance as those carrying sheep and cattle on their land
"I certainly haven't forgotten them," NSW Water Minister Niall Blair said.
"I've been very clear to say that this isn't something just impacting our livestock producers, that we did need to consider our cropping sector."
The NSW government has committed $1 billion to drought relief in NSW and Mr Blair said some measures, including concessions for farming vehicles, were available to crop farmers.
"We are closely monitoring that and we'll certainly keep an eye on the situation right across regional communities because this will have a flow-on effect right down to the winter crop," Mr Blair said.
"We are working up a series of options depending on whether it rains or doesn't rain."
Mr Westcott said he'd sunk around $1 million worth of seed, fertiliser and time into the ground earlier this year and was facing the prospect of getting nothing in return
"There's a lot of emotion with stock, it's easy for the prime-time media to portray, whereas I suppose watching crops fail doesn't rate quite as highly," the 58-year-old told AAP.
"Realistically looking at the crops now, we could have nothing and having nothing is not a very nice situation to be in because of the costs of putting it in.
"It's uncharted territory for us. I've been farming since the 1980s and I've never not stripped a crop."
Mr Westcott, who moved away from livestock during the savage millennium drought, said he expects the current dry to push more farmers away from sheep and cattle.
He knows some will stop farming altogether.