Interviewing supermodels is surely no easy feat. They're stunning, stupendously tall, and usually earn more money than your entire office put together.
When The Project sent comedian Tommy Little off to Los Angeles to interview Aussie expat Miranda Kerr, we were expecting some laughs. He is a comedian, after all.
Chatting to the skincare mogul and mum-of-one at her home in Malibu, things started out predictably safe and normal.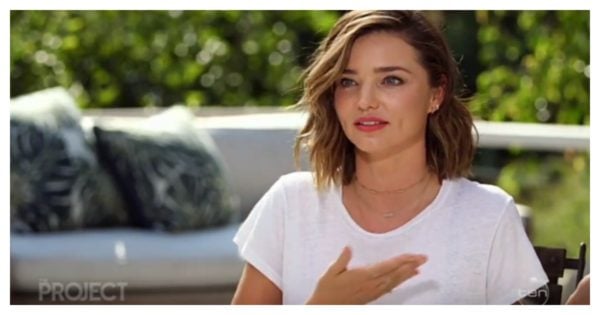 Miranda Kerr on The Project. Source: The Project. 
The pair chatted about life on the other side of the world, her July engagement to the Snapchat creator and CEO Evan Spiegelman, and her five-year-old son, Flynn.
But then... then things got a little awkward. Really awkward, in fact.
It all started when the duo made their way into Kerr's pool to discuss her latest partnership with Bonds and the launch of their swimwear range.