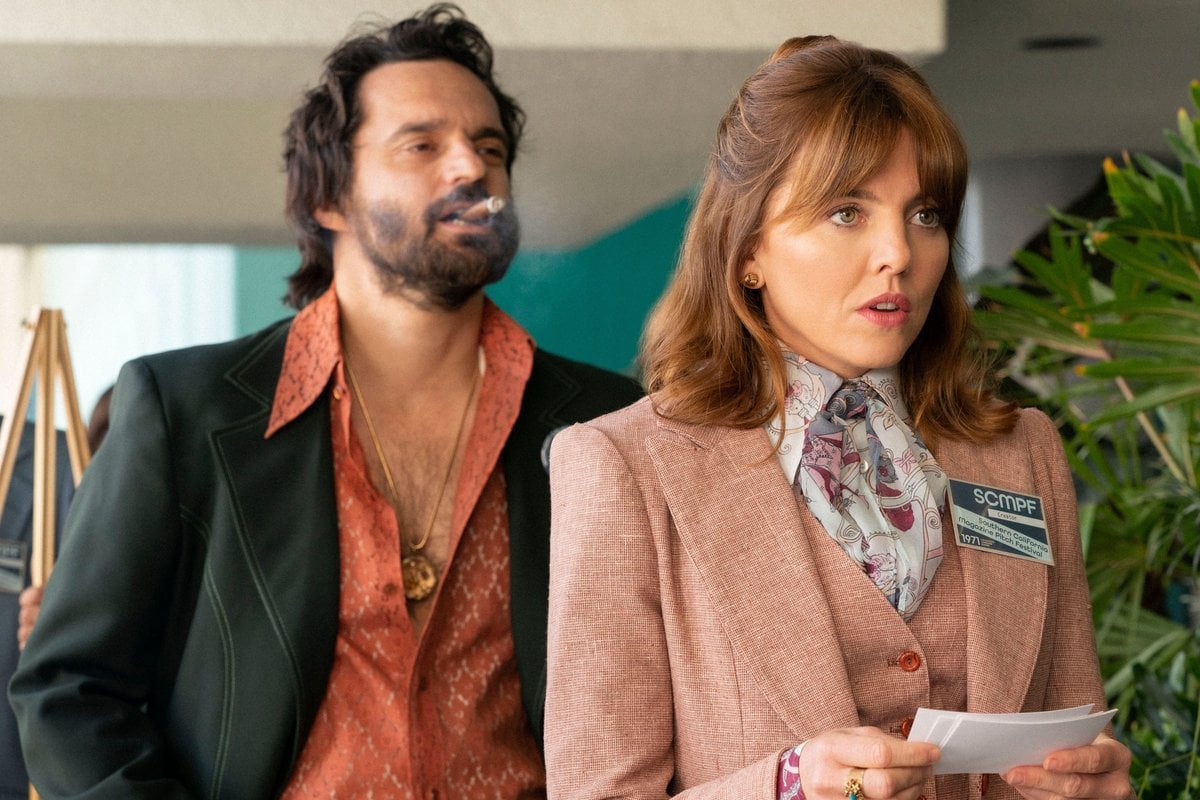 Stan's clever new comedy series Minx has already raised a few eyebrows with its risque nude scenes, but there's more to this story than just some X-rated body shots.
Set in the 1970s in Los Angeles (so the sets and costumes are to die for) Minx tells the story of a young feminist named Joyce (played by Ophelia Lovibond) who has always dreamed of starting her own magazine. One that would inform and challenge its readers to be part of a female-led revolution. 
Yet despite Joyce's continued passionate pitches to big publishing houses, no one is willing to take up her idea and run with it.
That is until she has a chance encounter with a prominent porn publisher named Doug (played by Jake Johnson) who, despite his slightly sleazy demeanour, is actually a smart businessman and sees the potential in Joyce's idea of creating a new magazine just for women. Sensing the dollars that could be made by delving into this untapped market.
Take a look at the trailer for Minx on Stan.
There's just one catch - and that's the fact that Doug wants the magazine to fit in with the rest of his porn-focused publishing empire while arguing that women need access to the same content men do, and so the unlikely duo team up to create the first erotic magazine just for the female gaze.
The chemistry between Joyce and Doug, two characters who could not be more different, is what really sets Minx up for success.
Joyce's prim and no-nonsense approach to life (she has a habit of confronting catcallers in the street to lecture them on the appropriate way to speak to women) is immediately at odds with Doug's laid-back and less politically correct approach to life, yet somehow they work.
In many ways Minx is also a workplace comedy, as Joyce and Doug are joined by a zany cast of colleagues as they work together to launch a magazine. 
A job that entails everything from nude model castings (it should be said that Minx is one of the few shows that perfectly manages the balance between male and female nudity on screen while keeping the female gaze in mind) to topical journalism that speaks to women in a new way. 
At the same time, the compelling world of the 1970s American porn industry makes for an interesting backdrop to Minx's cleverly told story.
Ophelia Lovibond is perfectly cast as Joyce, making her a more complex character than just a woman pushing a (much needed) empowerment agenda, and the more she becomes absorbed into Doug's professional world the more she learns to let her hair down and also trust her own instincts.
Audiences first fell in love with Jake Johnson during his run as Nick Miller on the comedy New Girl, where he ended up playing the main love interest, so it's interesting to watch him explore a whole new character in  Minx.
In his hands, Doug becomes more than just a sleazy porn industry player and evolves into a character with a layered back story and point of view, all while perfectly hitting his comedy marks.