The latest episode of Hulu's The Mindy Project has seriously divided viewers after they watched the show's title character spend the day living as a white male.
Created by and starring comedian and actress Mindy Kaling, the rom/sitcom is set in New York City and follows obstetrician/gynecologist Mindy Lahiri as she tried to balance her personal and professional life.
In Season five, Episode 12 titled Mindy Lahiri Is a White Man, Indian-American Mindy goes for a job interview for the role of head of the obstetrics department at the hospital.
She fails to get a second round interview from the all-white panel, after being posed questions including "Will you be able to keep your emotions in check and think logically?".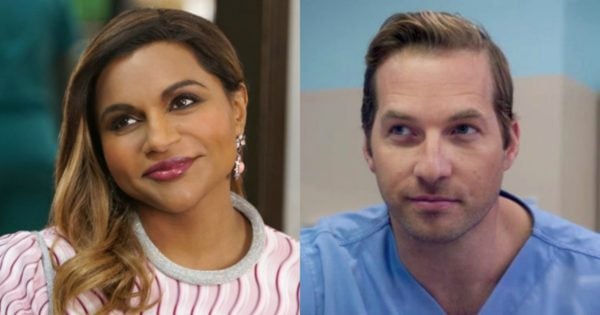 Image: The Mindy Project/Hulu
Frustrated, she goes to bed wishing she was a white man. The next day, she wakes up as (you guessed it) a white, privileged man called Michael Lancaster.
Instead of a single mum, he/she's a "divorced baby daddy". It takes him three minutes to get dressed and groomed, everyone thinks he's funny, he gets every cab he hails - and unlike Mindy, he's been granted a second-round interview for the job.
And questions about juggling parenthood? Non-existent. In fact, in one scene Michael wonders to himself why he doesn't get asked about his leadership skills.
Listen: Love TV? Laura Brodnik and Tiffany Dunk talk all things telly. Post continues after audio.
"I can tell you're a good leader just by looking at you," he's told.
Rather than going into touchy territory of Kaling dressing up as a white male, the show is smart, with actor Ryan Hansen (Veronica Mars) playing the privileged other-universe Mindy.
The aim is to make a loud point about sexism and racism which it does cleverly, presenting some harrowing reminders about the world that we're currently living in.