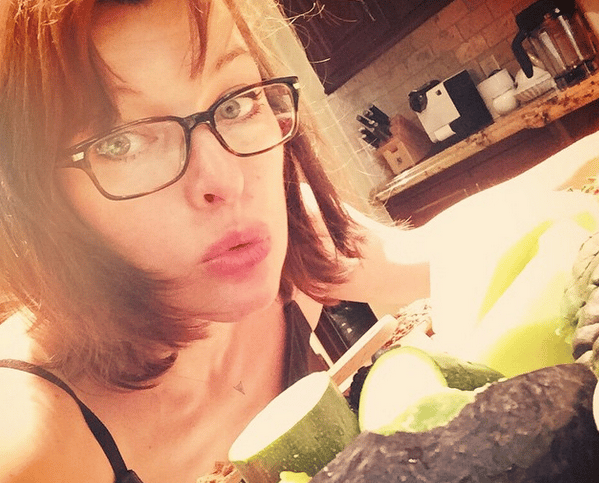 So she posted what she ate to Facebook.
On 1 April 2015, Milla Jovovich became a mum for the second time as she and husband, Paul W. S. Anderson, welcomed their daughter Dashiel Edan. Jovovich is already mum to seven-year-old, Ever Gabo.
And like most pregnant mums she struggled with her body image. So much so that she told parenting blog, Romy and the Bunnies, that by six months, she'd gained all of the recommended baby weight (with three months to go). She blamed the weight gain on feeling terrible for those first six months (yes, it is a lie that morning sickness only lasts the first trimester).
So in January this year, with 10 weeks to go, she decided to do something about it.
"I thought it would be fun and also helpful to post a 'food diary' on my Facebook page because going 'public' with something makes it that much harder to get lazy. Now it wasn't just about me making random promises to myself, but about me putting my reputation on the line with my fans," she said.
In case you don't know Jovovich is a model and actress, and with both industries placing lot of pressure on how a woman looks, we can understand her statement.
Jovovich did say that eating healthier wasn't about losing weight, but about being healthy for herself and her unborn baby. She also committed to taking 12,000 steps a day.
I admit, I couldn't help myself but scroll through her Facebook to see what Jovovich's food diary looked like...so here are a few of her posts. But before you read it all, I just want to let all pregnant women know, including Jovovich, to not put too much pressure on yourselves. Creating a baby is hard work after all.
20 January 2015