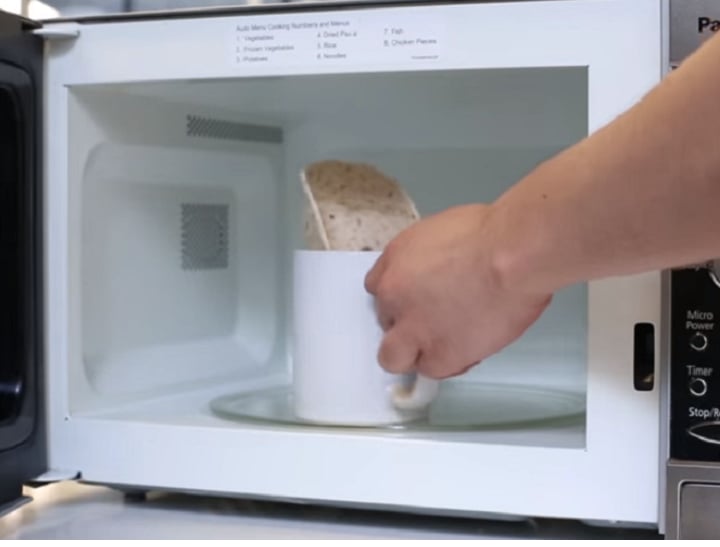 I remember when my parents got our first microwave. I wasn't even at school. My Dad proudly brought home an enormous brown electronic box, placed it carefully on the bench and it was used every day after that until it blew up 20 years later..
My parents stopped boiling the kettle. They would warm their mug of water for 60 seconds before adding a teaspoon of instant coffee for their morning cup of joe. My mum baked cakes in special microwave baking dishes. When you're five, a cake that takes three minutes to cook is a damn miracle.
My mum had strong microwave game. For years she would cook everything in the microwave. Baked potatoes, oriental chicken drumsticks, a chicken, mustard and cheese casserole that is to this day my sister's favourite food.
I never really understood why you would microwave food though. I even reheat leftover curry and pasta sauce on the stove top.
I need to up my microwave game though, I think. Did you know you could make taco shells in a microwave? Or make cafe-style poached eggs? Or dry herbs? I literally had no idea.
Appliances Online's Five Favourite Microwave Hacks

1.     Peeling Garlic – Peeling garlic can be a pain, but with the help of your microwave you will have those cloves out of the skin in no time. Simply heat the garlic for 15 seconds, and then peel away the skin in half the time.
2.     Eggs – Poached, scrambled or sunny side up – the microwave is guaranteed to save time when cooking eggs.
Poached: Crack an egg in half a glass of water. Add a splash of vinegar to help the egg stay together. Cover the glass with a plate and heat for 60 seconds. Voila! Who said poaching eggs is difficult?
Scrambled: Grease a mug with olive oil spray. Mix two eggs, a dash of milk and half a handful of cheese in a mug. Microwave for 60 seconds. Top with herbs and the remaining handful of cheese.
3.     Drying Herbs – Need some dry herbs for a spice rub? Or perhaps your fresh herbs are starting to look a bit flat? Rather than let unused herbs go to waste, dry them in the microwave for future use. Simply wash and cut the stems off the herbs, dry them and place them on a paper towel on a plate. Heat for three 30 second blasts.  Repeat for dryer results.
4.     Make hard taco shells – If you've got soft tortillas or lebanese bread, curve a piece around the inside of a cup and place it on its side. Microwave for 60 seconds.
5.     Vegetable Chips – Turn raw veggies into yummy crunchy chips in the matter of minutes. Slice potato, zucchini, carrot, sweet potato or other vegetables into very thin slices (if you have a mandoline use that). Arrange sliced vegetables on a microwavable plate, drizzle in olive oil, salt and pepper or any other herbs and spices and microwave for five minutes. Check for crispiness – if you want them crispier, continue to cook in 30 second increments. 
Bonus tip: to help clean up a microwave cookery blow out, pour two tablespoons of lemon juice and white vinegar into a half filled bowl of water and heat it in the microwave for seven minutes. The process creates condensation giving your microwave a good steam clean. When complete, take a cloth and simply wipe down the inside – it will be squeaky clean.
Looking for a new microwave? Check out Appliances Online's Top 5 Best Sellers below:

1.    Samsung ME6104W1 Microwave – RRP $209
For Appliances Online's price, customer reviews, and product video and info click here

2.    Panasonic NNST641W Microwave – RRP $259
For Appliances Online's price, customer reviews, and product video and info click here

3.    LG MS4042XRS Microwave – RRP $349
For Appliances Online's price, customer reviews, and product info click here

4.    Westinghouse Microwave WMS281SF – RRP $309
For Appliances Online's price, customer reviews, and product video and info click here

5.    Samsung ME6104ST1 Microwave – RRP $249
For Appliances Online's price, customer reviews, and product video and info click here