Since the now-infamous Trump tape was released last week, we've heard a litany of high-profile people express their outrage. But there was one voice we we've been waiting for: Michelle Obama.
And it was worth every goddamn second.
Speaking at rally for Hilary Clinton in the US swing state of New Hampshire, the First Lady unleashed on the Republican presidential candidate's treatment of women, and in the process delivered what may be the best speech of the entire US election campaign.
"I can't believe that I'm saying that a candidate for President of the United States has bragged about sexually assaulting women," she said.
"And I have to tell you that I can't stop thinking about this. It has shaken me to my core in a way that I couldn't have predicted."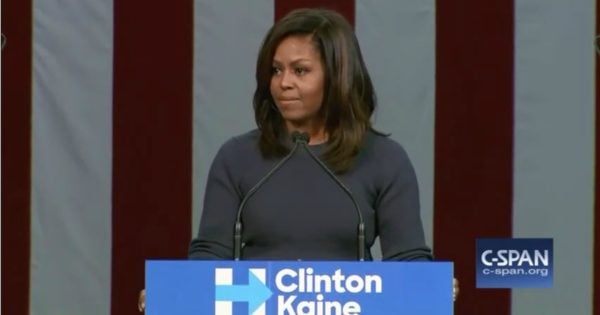 "I feel it so personally". Image: C-SPAN.
It was not a typical policy-focused campaign speech, but Obama said it would be "dishonest and disingenuous" to overlook Trump's comments, the ones in which he bragged to Access Hollywood host Billy Bush that his high profile allowed him to kiss women without their consent and to "grab them by the pussy".
The 70-year-old was forced to issue a public apology after the 2005 recording was published by The Washington Post last week, and he has dismissed the conversation as "locker room banter".