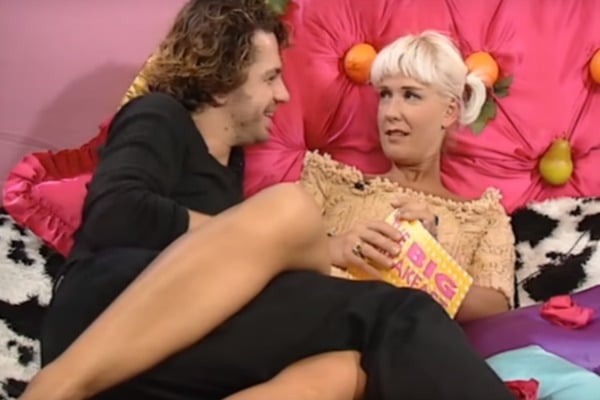 From the early 1980s, Paula Yates attracted headlines everywhere she went.
The British rock journalist and television presenter, who was known for her work on The Tube and morning program The Big Breakfast, was thrust into the spotlight in 1977 when she began dating Bob Geldof, the frontman of The Boomtown Rats.
Yates was an obsessed fan of The Boomtown Rats, who was determined to have the band's frontman. She began dating Geldof at just 18 years old, when she flew to Paris to surprise the singer while the band were performing there.
Watch the trailer for Mystify: Michael Hutchence below. Post continues after video.
In the years that followed, the young couple quickly became one of the most fashionable couples of the decade, appearing on countless magazine covers and red carpets.
But behind the scenes, the couple's relationship wasn't quite so glamorous.
Despite sharing three children together – Fifi, born in 1983, Peaches, born in 1989, and Pixie, born in 1990 – the couple's marriage was shrouded by persistent rumours of Geldof's infidelity and from a number of interviews, it was clear the pair had different expectations about the role of passion in their relationship.
"To live your life in a state of passion would be tedious because everything is distorted," Geldof once said in an interview. "Sexual passion burns out."
In the end, despite the persistent rumours about Geldof, it was Yates who strayed from the marriage. She had found her new source of passion.