I'm often asked if I own part of South of The Border because of how often I wear their clothes. I wish. The reason I wear so much of it is simple: the owner/designer of the label is my friend, Vanessa Cranfield and we met 15 years ago when our boys became buddies at pre-school. Even though it would be more than a decade until she would start her own label (she wasn't even working in fashion back then), I always swooned over Vanessa's personal style.
She always looked comfortable, cool and somehow both original and classic. My fashion dream.
Now she has her own label, several stores and a thriving online business and I've found clothes that fit, flatter and fun-up my life and my wardrobe like no other I've ever known. Whenever I wear Ness's clothes, I'm asked where they're from so we thought we would try a little collaboration.
Here are my top picks from South of the Border this season. You can click on any picture to see the other colours and patterns each item comes in (I own most versions of all of them) and you get 10% off when you enter the promo code MIAEDIT at checkout.
If that isn't a justification to shop, I don't know what is.
Enjoy!
M xxxxxx
This jacket is super flattering. I own this colour and the leopard and the khaki. The fabric works all year round. Not too heavy and really comfy.
Vanessa is obsessed with this piece and gets stopped in the street every time she wears it. Great with jeans or any pants. Warm yet fun.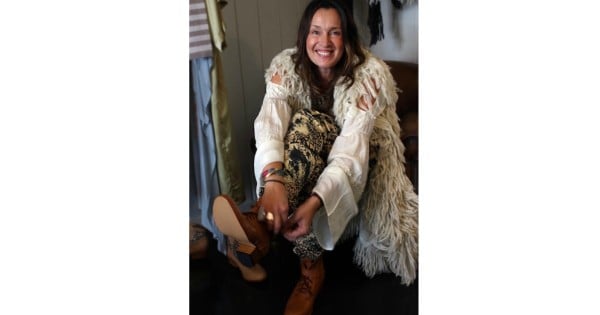 I cannot speak about how much I love these pants. I have literally 7 pairs in different prints and colours. They feel like trackies but look stylish and dressy. You can wear them with the matching jacket - I often do - or mix and match with other prints or just wear them with a plain top. When I fly, these are what I wear. THAT COMFORTABLE. And they don't crease. Honestly, my obsession.
Love this - I throw it on with everything. I find long scarves can get caught in things and fall off, this is just chuck on and go.
You didn't think we'd get through this without SOME SPARKLE, did you? This singlet has a zip down the side and just sits so perfectly. I never like to show my arms but the way it's cut is really flattering around the boobage and upper body. And this colour is like a metallic blacky/bronze and I've worn it with everything.
I always forget how good a high necked tee looks under a jacket. I wear mine backwards sometimes if I just want it more plain. But these are a great length. I like my tops to be long enough that I don't have to worry about them riding up and flashing my muffin top.
I live in these shoes even if I can't pronounce them. I have them in the beige suede and the rose/gold and the silver. They always get heaps of comments, are super comfortable, they work in summer and winter and they work perfectly with the pants as well as with skirts, dresses and jeans.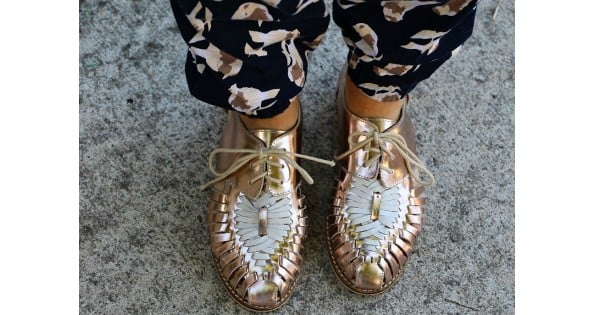 I didn't own this until the shoot and I've barely taken it off since. It just works with everything. Lifts it. Great pressie too. I've bought a few of these for girlfriends.
Ah, the blazer. Again, I own a bunch of these in different prints. The tartan one is my newest wardrobe addition - it's not stretchy - but the other ones are. They're cut so well, fitted enough to be flattering but not tight. Just a classic, sharp piece that goes with everything and doesn't ever crease.
Such a great basic boot. I love the look of this boot with a dress but Ness wears them with all her pants - she lives in them.