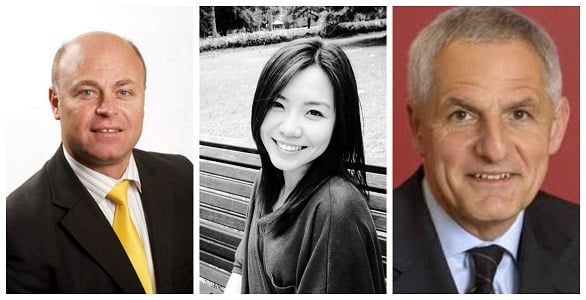 Your speedy update on all the day's stories, Friday , July 18 2014
1. The faces of MH17. 
Among the Australian victims of flight MH17, it's been confirmed that nine of the passengers were from Queensland, one from NSW, nine from Victoria, one from the ACT and seven from Western Australia.
Among the Australians confirmed on the passenger list are Albert (above, left) and Marie Rizk, from Sunbury Vic,  returning home today from holidaying in Europe, as well as Melbourne student Elaine Teoh (above, centre), 27.
Sister Philomene Tiernan from the Sisters of the Sacred Heart at Kincoppal-Rose Bay School in Sydney has been confirmed as the NSW victim.
Perth man Nick Norris was travelling from Amsterdam with his three grandchildren Otis, Evie and Mo Maslin – aged 8,10 and 12. He was bringing them home while their parents stayed a few more days for a holiday. "We loved them a great deal and we're going to miss them terribly," says Nick's son Brack.
Brack said that the Australian consulate was arranging for the children's parents to be flown home from Amsterdam.
Also lost  was the head of International AIDS Society Joep Lange (above, right) from the Netherland. Lange was heading to Melbourne for the 20th International AIDS Conference.
For more details, see our rolling news coverage. Our thoughts are with the families of the victims.
Anyone wanting information on relatives or friends is urged to call 1300 555 135 the 24-hour Consular Emergency Centre in Canberra.
2. Allison Baden-Clay's family asks to let her rest in peace.
The Courier Mail reports that, last night, Allison's family responded to Gerard Baden-Clay's conviction appeal. They said, "It's been a difficult time for the family, just let her rest in peace."
Two days after he was convicted of murdering his wife, Gerard Baden-Clay has appealed on claims the jury was "unreasonable". The appeal will take more than six months before going to court.
3. Is this the riskiest school science experiment ever?
In a school assignment that seems to contradict all advice on online security, a primary school student in South Africa has started a science experiment to see how far a photo of himself can travel. A young boy we will only call Ruben, 6, from Pretoria, uploaded a photo to his mother's Facebook page which identified his first and last name, location and clearly showed his face.
In 3 days the photo has had more 47,500 shares and 21,500 comments from people across the world.
While Ruben's mother thanked Facebook users for making the project a success, social media experts are warning on the danger of posting photos of children with identifiable details on social media.
4. Too tired to leave the house to get Maccas? You're in luck. 
McDonald's is about to trial a home-delivery service in South Melbourne with other locations expected to follow. Orders need to be a minimum of $25 and will be charged a $4,95 delivery fee - with deliveries limited to Sunday to Thursday 5pm-11pm. and Friday and Saturday 5pm-10am (the following morning).
And don't worry Sydneysiders - the delivery service is already being tested in two areas with another five to come.
5. A baby whale is born. 
A baby whale was born overnight at on the Northern Beaches of Sydney. A spokeswoman for the NSW National Parks and Wildlife Service (NPWS) confirmed the birth and sighting of the baby whale 400 metres off South Curl Curl this morning.
NPWS are warning the public to stay away from the mother and calf after some tried to get close to the mother yesterday.