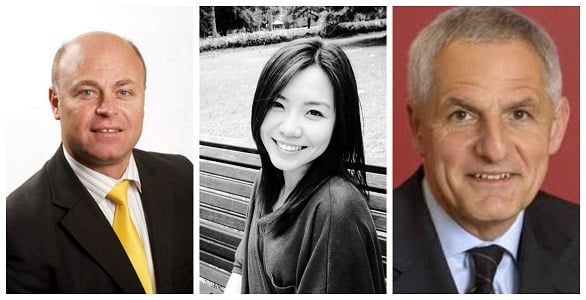 Your speedy update on all the day's stories, Friday , July 18 2014
1. The faces of MH17. 
Among the Australian victims of flight MH17, it's been confirmed that nine of the passengers were from Queensland, one from NSW, nine from Victoria, one from the ACT and seven from Western Australia.
Among the Australians confirmed on the passenger list are Albert (above, left) and Marie Rizk, from Sunbury Vic,  returning home today from holidaying in Europe, as well as Melbourne student Elaine Teoh (above, centre), 27.
Sister Philomene Tiernan from the Sisters of the Sacred Heart at Kincoppal-Rose Bay School in Sydney has been confirmed as the NSW victim.
Perth man Nick Norris was travelling from Amsterdam with his three grandchildren Otis, Evie and Mo Maslin – aged 8,10 and 12. He was bringing them home while their parents stayed a few more days for a holiday. "We loved them a great deal and we're going to miss them terribly," says Nick's son Brack.
Brack said that the Australian consulate was arranging for the children's parents to be flown home from Amsterdam.
Also lost  was the head of International AIDS Society Joep Lange (above, right) from the Netherland. Lange was heading to Melbourne for the 20th International AIDS Conference.
For more details, see our rolling news coverage. Our thoughts are with the families of the victims.
Anyone wanting information on relatives or friends is urged to call 1300 555 135 the 24-hour Consular Emergency Centre in Canberra.
2. Allison Baden-Clay's family asks to let her rest in peace.
The Courier Mail reports that, last night, Allison's family responded to Gerard Baden-Clay's conviction appeal. They said, "It's been a difficult time for the family, just let her rest in peace."
Two days after he was convicted of murdering his wife, Gerard Baden-Clay has appealed on claims the jury was "unreasonable". The appeal will take more than six months before going to court.
3. Is this the riskiest school science experiment ever?