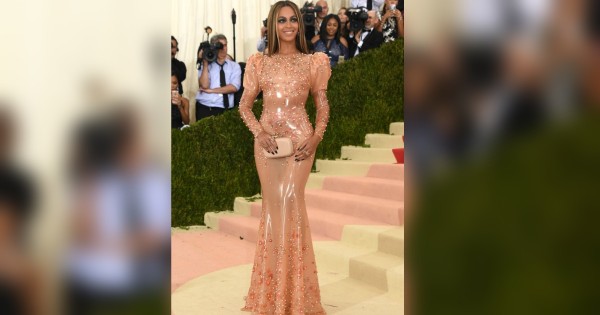 If you're Kendall Jenner, choosing what to wear to the most fashionable of fashionable nights in glittering NYC is easy:
Not much.
Youth is enough. At the Met Gala, like every other red carpet event, the cameras and the culture cannot get enough of young flesh. Side boobing, ab-flashing, pokey-pokey shoulder-blading… the more skin, the better. The fewer modesty-covering sequinned-feathers, the better. Roll yourself in glue-stick, thrash around in glitter and you've pretty much nailed the preferred look.
Kendall Jenner would look great in nothing, or in a Snuggie. That's how youth rolls.
But if you are over 40, a Met Gala invitation is a trickier proposition. The event demands show-stopping. The event demands edgy. The event demands industrial-grade Spanx.
Unless you are Madonna. If you are Madonna, then it only requires some black ribbons, a G-string and 57  years of not giving a f***.
People will clutch their pearls about Madge's bum on the red carpet. They will tell her to put it away. And she will give them the finger and remind them if they think she's going to head into her 60s in a cardigan and crocs, they're dreaming. Thank God.
Event dressing is terrifying. Whether it's the Met Gala or your cousin's Zippy's wedding, there's something about choosing an outfit that will be forever frozen in time that can be paralysing and sends even the sanest among us into a "But I have nothing to weeeeaaaaarrr" tantrum.
Add to that the wide range of insecurities that the average woman carries around in her clutch - saggy arms, wrinkly cleavage, big bum, little bum, double chin, ugly toes - and it's a very, very rare person who's feeling confident enough to think, 'You know what, let's go with the latex'.