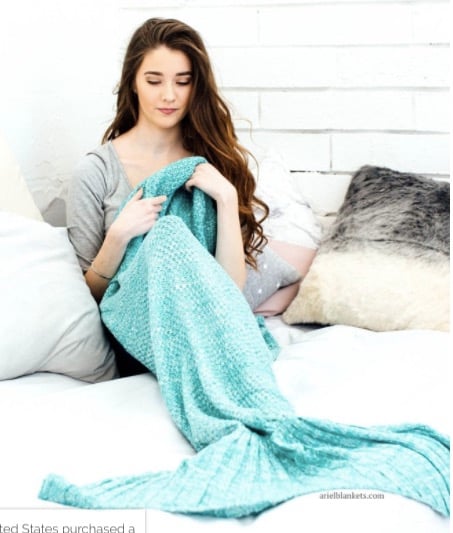 WHAT IT IS: A blanket in the shape of a mermaid's tail. Finally, all our The Little Mermaid dreams have come true.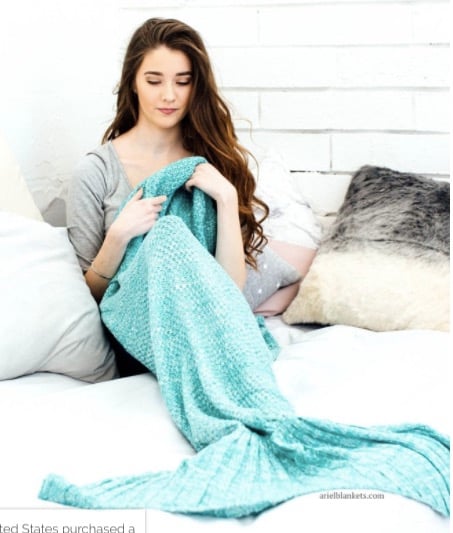 Image: Ariel Blankets.
On the Ariel Blankets website, it's described like this:
Snuggle up in this super soft mermaid blanket and feel like you're part of the ocean. Hand knitted with the highest quality acrylic yarn that will be the best gift for yourself or someone you care about.

Keep warm and cosy for the cooler days with some extra detail with the mermaid tail.

A portion of all sales goes directly to Greenpeace to help protect and save our coasts.
WHY DO I NEED IT? Because MERMAIDS. And BLANKETS. And GREENPEACE!
WHAT WILL I USE IT FOR? Staying snug while looking a bit fancy. Plus, it'll make it even more enjoyable to stay home and binge watch Netflix for hours at a time, if that were, in fact, possible.
HOW MUCH DOES IT COST? $81, plus postage.
DOES IT COME IN OTHER COLOURS? Why yes! Yes, it does! Pink, purple, grey, turquoise and navy blue - have a flick through them in the gallery below. (Post continues after gallery.)
Ariel Blanket mermaid blanket.