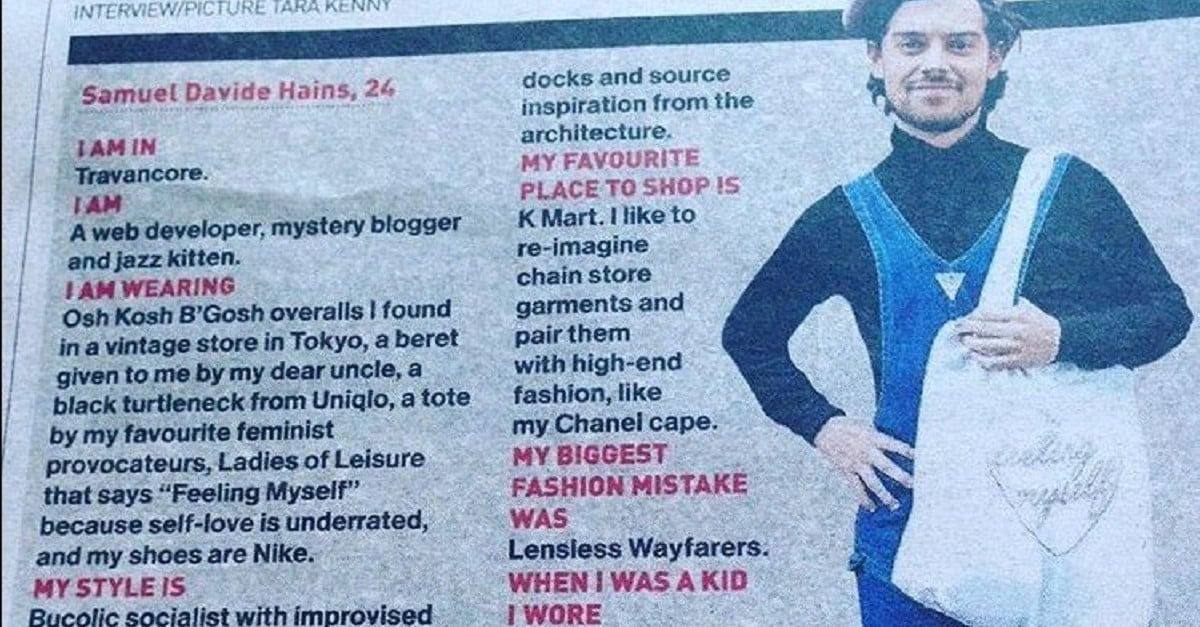 I didn't realise Melbourne had an actual 'face'. But it does. It so does. And it's in the form of Samuel Davide Hains, a "web developer, mystery blogger, and jazz kitten" from Travancore, who has us reeling with his interview with M Magazine, by The Age, in Melbourne.
The term 'hipster' will never be used lightly, ever again. (The name "David" is likely never to be spelled the same way again.)
Although some have suggested Hains, 24, is too good to be true and therefore a fictional character, the guy who posed for the picture played a good game, giving the magazine plenty of details about his peak hipster life.
His ironic take on like includes Osh Kosh B'Gosh overalls (worn backwards, because… of course); a black turtle neck (my grade-nine self will be happy to know they're making a comeback); and a feminist, yes feminist, tote that reads "Feeling Myself" because "self love is underrated"…. plus a beret.
Two words:
Peak. Melbourne.
Is Samuel Davide Hains, 24, in vintage Osh Kosh B'Gosh, the most Melbourne Melburnian ever? #peakMelbourne pic.twitter.com/q0wZvC9jUm

— Victoria Hannaford (@vhannaford) July 4, 2016
So now the hunt is on to find out the identity of this mystery style icon. And he's gone global. 
Metro in the UK has described him as a "street style star". The Independent has dubbed him the "world's biggest hipster".
Meanwhile, in Ireland, they're "bemused by this guy's barmy street style". (Of course they are.)
Hains' affinity for style didn't arise overnight. This hipster has some serious style inspo; he credits Trotsky, Albert Einstein and John Coltrane as his main influences. (I'm sure the trio will be happy to see their legacy put to such stylish use.)
You'll be reassured to learn Hains, thankfully, is human. He, like all of us, once fell for the trap of wearing lens-less wayfarers, a move he described as "his worst fashion mistake ever". (Coming from a buy wearing backward overalls, that is one big call.)
Nowadays, however, he'd never be caught dead in "neo-hippie, bush-doof couture" (yeah, umm, neither would we…?).
He likes to mix things up and sometimes wear "something random, like a lab coat". (Did we mention he's from Melbourne?)
He hates "small inefficient beanies".
He won't wear anything "less than extraordinary".
Oh, and he owns a cape. A Chanel cape.
Mic. drop.
Watch next: The fashion items we've blown too much money on.