Whenever the Melbourne Cup Carnival rolls around a few complicated stories flood our news feeds.
But in between the "Photos of very, very drunk Ladies at Caulfield", "Dress disaster as Celeb X wears EXACT SAME OUTFIT as Celeb Y" and "Take a look at the WORST dressed at the Melbourne Cup" stories, there's another one – a story that pops up like clockwork – that goes unnoticed. It's the most damaging of them all.
"Fairytale as tradie scoops up $1 million from lucky bet."
We saw this precise story surface yesterday, documenting how 'Dominic from Mill Park' went from humble Aussie bloke to overnight millionaire, all from a $5 punt.
"It was so surreal. I started the day working, concreting for a mate, so I never could have imagined this," Dominic told Seven West Media.
"I was just numb towards the end of the race. I'm still in shock. A couple of my mates even broke into tears."
Dominic's is the insane, joyful, dream-like story we tell our families and friends about. The they-bet-17-bucks-and-now-they're-a-freaking-millionaire narratives that make us think maybe, just maybe, one day we'll turn a tenner into a cushiony debt-free life, or a year-long European holiday.
We know winning big is minuscule, but the prospect of maybe is so goddamn titillating we humour it anyway.
Stories of freakish luck are now the punctuation on every big sporting event. For the AFL Grand Final, it was the guy who took home $50,000 from two $10 punts. The Australian Open was capped off by the dude who raked in $86,850 from his multi.
"Buy that man a beer!" the opening lines of each story read, only to be liked and clicked on and read by thousands of Australians.
As chuffed as we can feel for these punters, who walked away from the racecourses and footy grounds and tennis courts with big fat grins and even fatter wallets, here are the stats we don't hear enough about:
Australians wagered $657 million over the four-day Melbourne Cup Carnival in 2016 – a number that Racing Victoria predicted would climb steadily in 2017, with considerable jumps in mobile app usage.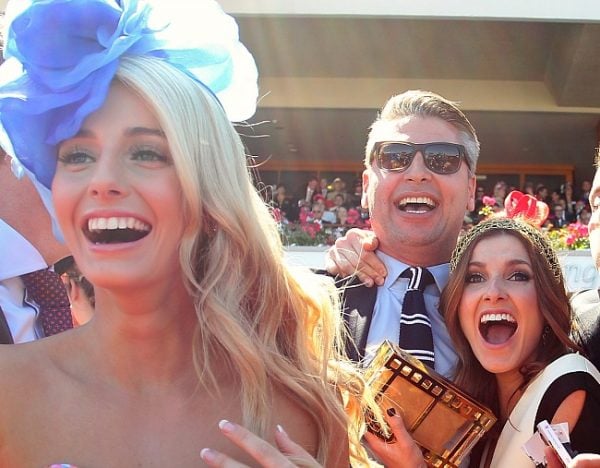 That's over half a billion dollars. In four days. From the bank accounts of Australian men and women. And the vast, vast majority of it lined the pockets of big betting companies, the companies who bombarded our phones with text message pleas to punt, people! Punt big!
Australia's gambling problem is pandemic.
Analysis by The Economist in February showed that Australians lost more money on gambling per person than any other country in 2016. When it comes to gambling, we are the worst globally. On average, Australians waved goodbye to $1292 per capita - double what those living in the United States lost.
"To the general public, Australia hardly leaps to mind as a gambling hotbed. Yet industry insiders know it is far and away their most lucrative market," the publication reported.
More than one Australian kills themselves every day because of gambling addiction. On average, we lose 400 people a year.
Our infatuation with the pokies is responsible for a large chunk of this - yes - but so too is our propensity to splash on sport. Australian Gambling Statistics' figures show sports betting increased by 30 per cent between 2013 and 2015, making it the highest-growing area of gambling in Australia. With the explosion of betting apps on smart phones only really hitting its straps recently, that number is expected to continue climbing.
LISTEN: Don't like the Melbourne Cup? You might relate to our complaints hotline.
Since Saturday my phone received seven messages from betting agencies, each promising me "money back specials", "extra power plays", "hot tips", "deposit match offers", and "rewards points".
All very enthusiastic, energising words for "you'll almost definitely lose, but please try anyway".
So while Dominic's story is lovely, it needn't be told.
What we should be telling is the story of gambling addiction; the fathers who lost thousands of dollars yesterday, the mothers who spent their entire pay check and walked away with nothing; the tradies who didn't become millionaires, but plunged themselves into deep and despairing debt.
Because behind Dominic, who is tightly grasping his new wad of cash, there are thousands of Australians feeling the crumby lining of their pockets, wondering how the hell they just keep losing.