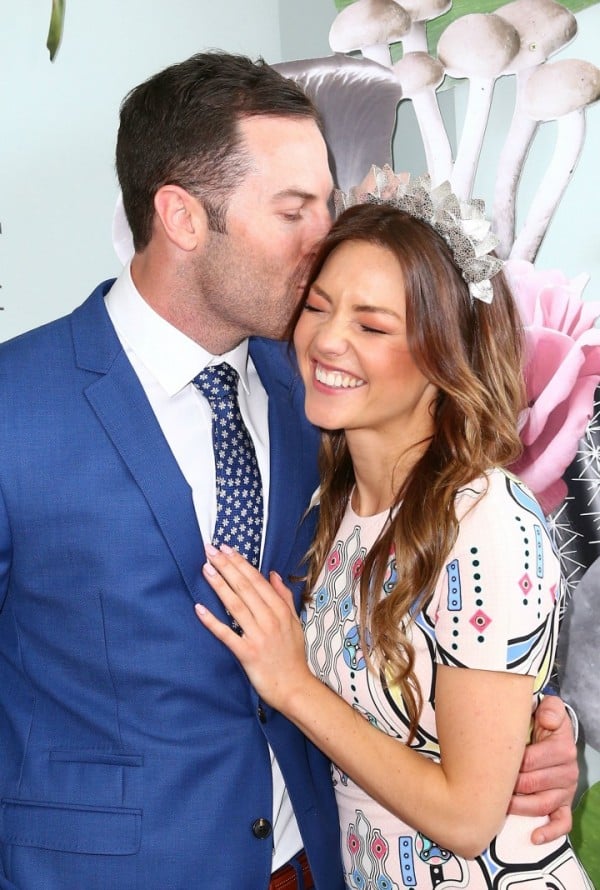 Sam and Sash looking very much in love. Image: Getty.
The Melbourne Cup race doesn't actually happen until this afternoon, but for our favourite Aussie celebrities it's been all systems go since about 9am.
Dresses have been steamed, fascinators have been fastened, and glam squads of makeup and hair stylists have been busily priming and primping.
Having seen the photos on Instagram, we have to say it was all worth the effort — because everyone is looking fiiine. We've got highlighted cheeks and contoured noses galore, with plenty of colour pops to keep it interesting.
Bec Judd, as per usual, has nailed the glowy-faced look, one that's appearing on everyone from Megan Gale to Kate Waterhouse.
Then there's Ms Jennifer Hawkins, who never fails to light up the Myer Marquee. This year she's teamed a bright yellow Toni Maticevski dress with relaxed waves and a nude lip.
Oh, and our new favourite love birds have hit the stage in true Bachelor style... with a cheeky pash. Don't let the PDA distract you from Sam's bronzy cheeks and eyelids, though. That's some lovely makeup right there.