On Tuesday, 23-year-old Jade Jillings joined 100,000 others at Flemington Race Course for the 156th Melbourne Cup.
When she awoke on Wednesday morning, she was notified that a friend had tagged her in something on Facebook.
It would be the first of many, many notifications that day.
Jillings knew she had been photographed lying down in some bushes with her roommate.
What she didn't know, was that multiple images of her, which she was not aware were being taken, would come to represent the "decadent" and "depraved" 2016 Melbourne Cup. And they would be published worldwide.
It's likely that throughout the course of the week, you've seen the image of Jillings "riding" a wheelie bin as though it was a horse. The photograph was published by News.com, The Daily Mail, The Australian Women's Weekly and Yahoo to name a few, as well as US sports website Deadspin where it was shared over 350, 000 times.
We have decided not to post the images.
Mia Freedman, Holly Wainwright and I discuss drunk women at the races on Mamamia Out Loud. Post continues below.
When I spoke to Jillings over the phone, I was reminded (and I think we all need reminding) that behind these 'funny' photographs is a vulnerable human being who has spent most of this week trying to process her unprecedented virality.
"I was quite embarrassed…" she told Mamamia. "I was like…my family's going to see this, and there was just nothing I could do about it."
At first, Jillings chose to remain nameless as the tabloids plastered her image across their homepages, referring to her mostly as "the woman in the blue dress," with some claiming she was "humping" the wheelie bin.
The comment sections, particularly on The Daily Mail, became increasingly vile.
To reiterate – Jillings never posed for a photograph. She had not sought any exposure, and these are some of the comments she's been subjected to:
"Aussie girls are the roughest in the world. Horrible."
"Calling her a lady is quite a stretch of the imagination."
"Australia, do something. This is unbelievably vulgar."
"Wow the cattle grow big in Australia what do you feed them. [sic]"
"Just another excuse for the brain dead morons to dress like tarts and fill themselves up with booze and bad manners."
"Her mum must be so proud right about now."
Luckily, alongside the cruelty, was the odd voice of reason, such as "I look forward to seeing the photos from the Daily Mails' Christmas party and how they compare." But I'm sure no one associated with any of these images has ever indulged in one too many alcoholic beverages, and perhaps behaved in a way they later regretted.
In response to the headlines and comments that called her "disgusting" or "shameful", Jillings said "that hurt. That was a bit far. And they were saying like you're making Australia look bad. People get like that everyday, it was just unfortunate that they took photos of me."
Jillings considers herself "lucky" in that "the guy in the photos I actually live with him and stuff. I haven't had to do it, go through it by myself."
Her friends have been incredibly supportive, as well as programs like The Project and Nova who have interviewed Jillings in the past few days. "They're saying it's just the best," she said. "And you can just tell you guys are having a good time, that's all you guys were doing was having a good time."
To be clear, Jillings is in no way framing herself as a victim. She does not feel bullied or exploited. Despite my own concern, she assured me "I'm just fine with it...it's crazy how it's all just, just the way it's gotten."
There was one thing which she thought was "a bit unfair."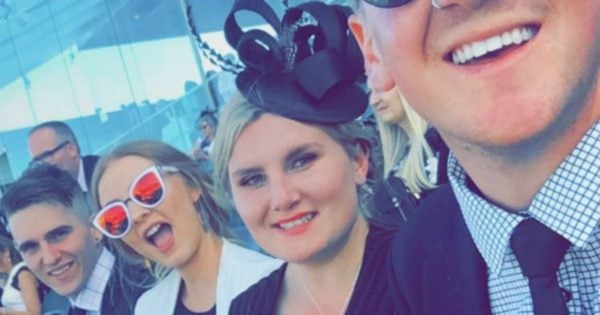 "I was fine with all the photos," she told me. "Except for the one where I'm like on the ground and they've blurred it out, and I thought that was quite inappropriate that they even sent that in."
I knew the image Jillings was talking about. In doing my research, I'd come across it more than once, and was horrified to see that she had been photographed in the process of standing up, where for a brief second, her underwear was on display. The Daily Mail and News.com ran the images, with the area between her legs blurred out. But they exist elsewhere on the Internet without the pixelation. And countless women were caught in the same position, with The Daily Mail captioning one image "woman exposes her panties as she squats to pick something up off filthy floor." Indeed, one party is lacking class in this equation, but it certainly isn't the women.
Jillings requested that the image be removed, but was told "there's nothing you can do about it...you're in a public place." She said she was informed she "pretty much had no rights...which I thought was a bit unfair."
So, to pause on that point for a moment. Ethics aside, I can legally be photographed walking down the street given that it is a public arena. But if someone were to take a photo up my skirt, then surely that would be breaking the law. And if they profited off that image, surely that's even worse.
But at the Melbourne Cup, where there are copious amounts of celebrities more than willing to get their photo taken, there are photographers among the "punters", just like you or I, purposely shooting up women's dresses. Who knew that just by walking into the Melbourne Cup, you forfeited your right to privacy or basic human respect?
This week, media outlets all over Australia have been profiting off images of women's underpants, taken without their knowledge. And we've laughed. And shared. And called them "classless".
Jillings is doing her best to laugh it off. "We never hurt everyone, we never did did anything illegal, we didn't damage anything," she said.
Now, she's just hoping it all blows over, "I'm sure it will", she said. Before long "they'll be talking about someone else."
But of course, therein lies the problem.
Next week, it will be someone else.
Feature image: Channel 10.