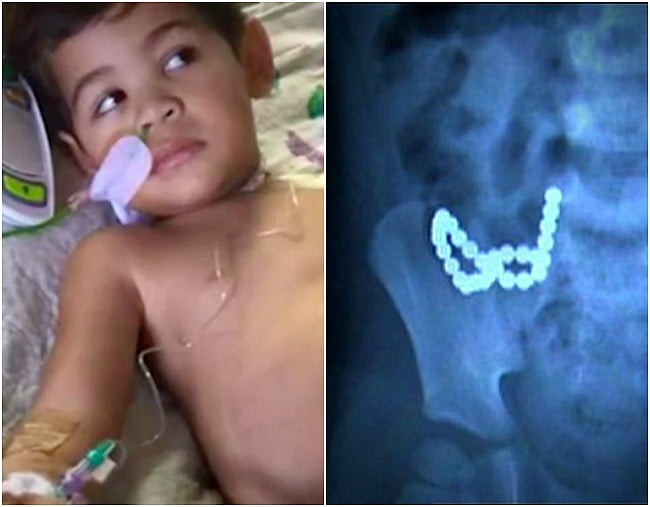 1. Doctors issue warning after Melbourne boy almost dies swallowing 30 magnets.
A Melbourne boy has sparked a warning about the dangers of small magnets, after he was rushed to hospital having swallowed 30.
Five-year-old Noah Lefau's family told 7 News that he pulled a chair over to a fridge in order to reach the magnets, which he then ingested.
"Mum rang at lunchtime saying, 'He's on the ground, curled up in pain'," Noah's mother, Christelle Lefau, told the network.
The boy was taken to hospital where X-rays revealed the cause of his agony.
"I thought maybe it's the little silver balls you use in cake decorating," Ms Lefau said. "They said, 'No, it's metal'."
A young Pakenham boy was hours from death after swallowing 30 fridge magnets. Doctors are warning parents of the dangers of leaving them within reach of children after seeing a rise in admissions to hospital. @georgiamain7 #7News pic.twitter.com/9IzeDajVTn

— 7 News Melbourne (@7NewsMelbourne) July 23, 2018
Surgeons took six hours to remove the magnets and repair the damage.
"They travel along the intestine and they are attracted to each other, trying to get together and by doing this, they create little holes inside the gut," Monash Children's Hospital's Dr Maurizio Pacilli told 7 News.
"We had found 10 or 12 holes which we had to stitch one at a time, and we had to remove some parts of the intestine."
Had doctors not treated him when they did, the outcome could have been tragic.
"If it was less than half a day longer, he would have died," Christelle said.
Product Safety Australia recommends the following safe-use precautions for magnets: Keep toys with strong magnets, or magnetic parts that are small enough to be swallowed, away from young children; Always watch an infant when they are playing with toys that have magnets, to ensure they do not go in the child's mouth; Always dispose of toys if their magnets become loose; If you suspect a child has swallowed magnets, seek urgent medical assistance.