WARNING: This post contains an account of domestic abuse which may be triggering for some readers.
The sister of British pop icon Mel B (Melanie Brown) has spoken out against the man who allegedly abused her sibling throughout the pair's decade-long marriage.
Since news broke that the former Spice Girl had filed a restraining order against her estranged husband Stephen Belafonte on Monday, Mel B's sister Danielle Brown said she has been increasingly hounded by media for comment about her "evil" ex brother-in-law.
Deciding to post a statement on Instagram instead of "selling a story", the stylist labelled her sister's husband of ten years a "sorry excuse for a man".
"Dear all media, I won't be selling a story on my sister, never have and never will!!," she began.
"Here is my comment below so you can now leave me and my mum alone and let us be united and grieve the loss of my dad."
Danielle tagged Belafonte and said her mother and herself had received "eight years of abusive calls" from her sister's ex, during which he would threaten they would "never see Melanie again".
"I am laughing and celebrating as you were wrong. You are a sorry excuse of a man!!"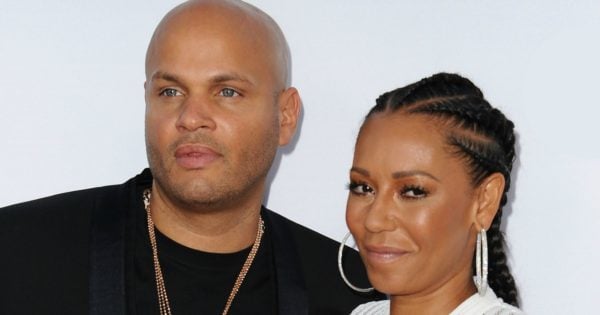 Quoting Beyonce's hit song Irreplacable, Danielle continued, "to the left to the left, everything you own in the box to the left".
Since Mel filed for divorce on March 23, disturbing allegations have emerged against the father of her five-year-old daughter via detailed court documents.
According to her restraining order application, the 41-year-old suffered physical and emotional abuse at the hands of the man she married in 2007.
She alleges Belafonte forced her into threesomes with "random women" and blackmailed her with footage he had secretly filmed. He was also allegedly violent, beating her a number of times.
According to a statement from Belafonte's attorney to TMZ, he "vehemently denies" his ex's allegations.
"When the court determines the truth, it will become clear that this entire charade was nothing more than a smear campaign intended to cover up Ms. Brown's own conduct during the marriage in light of her current involvement with a family television show and in an effort to unfairly gain leverage both financially and with respect to custody of the children," the statement read.
Mel Brown has one daughter with Belafonte, five-year-old Madison, and two daughters from previous relationships - nine-year-old Angel and 18-year-old Phoenix.
If this post has raised any issues for you or your require assistance please call 24-hour hotlines Lifeline on 13 11 14 or 1800 RESPECT on 1800 737 732.