In case you missed it, Mel B walked off the set of Sunrise this morning. She threw up her arms, stood up and crossed straight in front of the camera.
"Oh gosh. I'm leaving. Like, what is all this?" she said.
Okay, so it was a bit of a joke, and therefore wasn't the diva moment it could have been, or should we say should have been.
Because, while the former Spice Girl's storm-out was tongue-in-cheek, we would hardly blame her for doing it for real.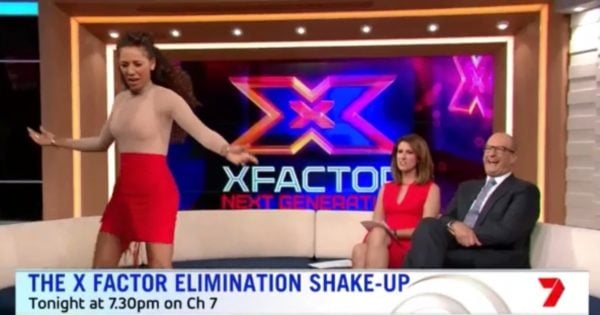 "Like, what is all this?" Mel B walks off Sunrise set. Image: Channel 7.
The faux flip-out was prompted by comments about her supposed "feud" with X Factor co-host Iggy Azalea, which we all know is the only interesting/marketable storyline for two well-known, successful women on a reality TV show panel.
The questioning began when Sunrise host Natalie Barr asked if Azalea - a platinum selling hip hop artist - felt "scared and a bit threatened" by Mel B's late addition to the programme.
"Oh God, no," the 41-year-old responded. "She's got a massive career, she's highly, highly successful. And we get on, so..."