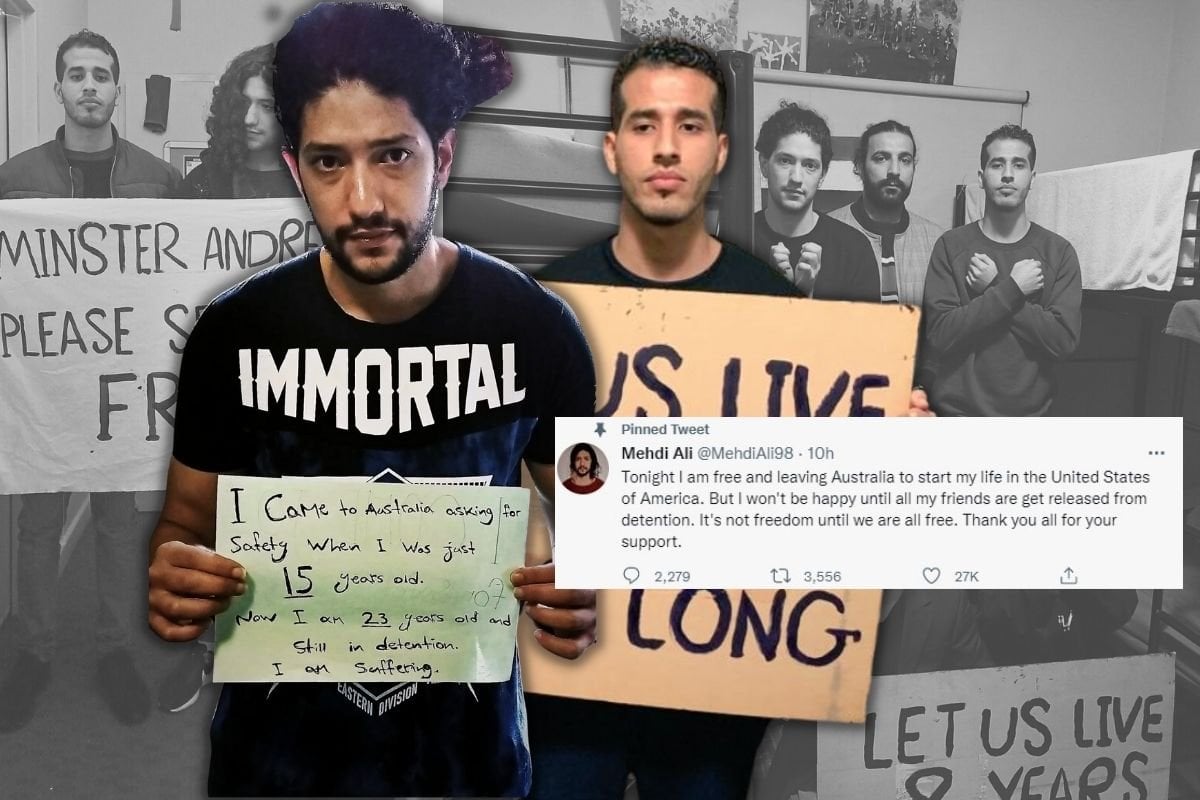 Cousins Mehdi Ali and Adnan Choopani arrived on Australian soil aged 15 and 16 after a treacherous boat journey. 
They'd fled from Iran where they faced systemic oppression as members of the Ahwazi Arab minority. 
When they got here, they were sent to Christmas Island where they remained for nine months, before being shunted from detention facility to detention facility both on and offshore. They'd end up staying locked up - their only crime seeking a safe place to live  - for nine whole years.
Watch: A message from Medhi, Adnan and their friends. Post continues after video.
On Thursday night, the now 24 and 25-year-old men announced they'd suddenly been set free. Their stories were catapulted onto a global media stage in January when world tennis No.1 Novak Djokovic found himself in their latest prison - a Melbourne hotel. 
But they're not free to roam the streets of Australia. Instead, they're headed to America to start their new lives. 
This is their story.
The life they fled.
Ahwazi Arabs are one of Iran's most persecuted minorities.
A 2013 Ahwaz Human Rights Report detailed a campaign of execution, use of torture, the denial of women's rights and environmental destruction of the Ahwazi Arab homeland. 
"Extrajudicial killings of Ahwazi Arabs are at least as frequent as official executions of political prisoners," the report said.
"It is clear that the slaughter of Ahwazis is linked to their cultural persecution."
It was released the same year that Mehdi and Adnan fled, at the insistence of their families.
I came to Australia asking for safety when I was just 15 years old.
Now I am 24 and still in detention.
If I'm not a refugee, why would I endure such a difficult time as a child if I have the option to go back to where I came from? Even then, I'm not safe in detention either. pic.twitter.com/yrFMWt9AyR

— Mehdi Ali (@MehdiAli98) January 17, 2022