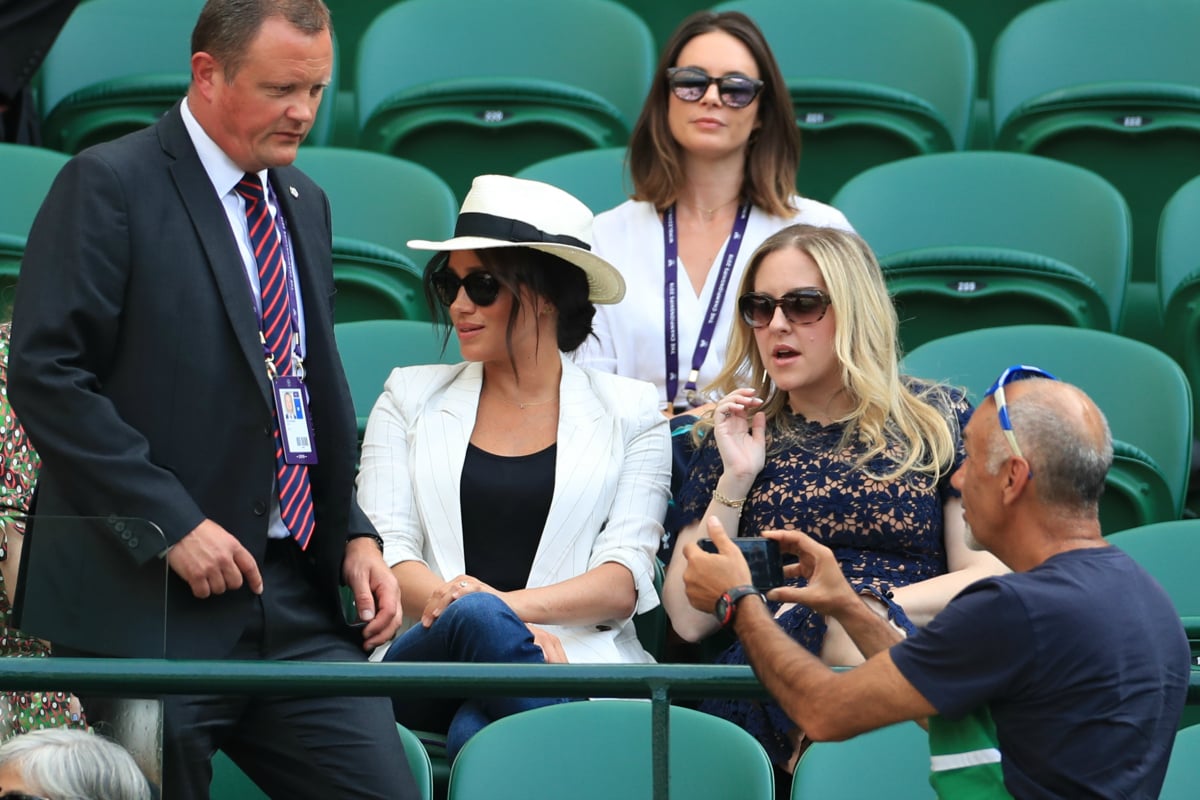 Meghan, Duchess of Sussex, has asked for more privacy, and people are mad. Partly, it seems, because that (alleged) request was (allegedly) made at an internationally televised sporting event. Also, because, well, the whole her-being-a-royal thing.
The former Suits star took her seat in the members' section of Court 1 at The All England Club last week to watch her friend, Serena Williams, secure her Day 4 Wimbledon victory. A little further along the row sat The Telegraph UK journalist, Sally Jones.
Jones claims that, partway through the match, she was tapped on the shoulder by a man who appeared to be one of the Duchess' royal protection officers.
His request: "Would you not take photographs of the Duchess… She's here in a private capacity."
Piers Morgan sees red over the Duchess' demands. Post continues below.


In an article published by the paper on Monday, Jones wrote that while she was not, in fact, photographing the new mother, plenty of spectators were. And why not, she argued.
"No wonder there is a growing tide of resentment against the Sussexes for their secretive, high maintenance attitude and diva-ish demands for privacy when it suits them," Jones wrote. "It seems particularly irrational when they appear in a highly public arena amid a substantial press pack and thousands of spectators, for their security team to start trying to control the photography habits of lone onlookers sitting near the Duchess, most only vaguely aware of her presence."
In the least surprising news of the month, Piers Morgan also had a take on the whole ordeal. The headline-baiting British television presenter got all worked up on Good Morning Britain: "If you want to be private, go back to America and live privately… It's frankly hypocritical, and they're not private people, they're the Duke and Duchess of Sussex. We get to pay for their mansion [Frogmore Cottage], we get to do all of this."
Photographs emerged from the match that appeared to support Jones' story. They capture a spectator being dressed down by a tall, suited man (again, presumably security) for pointing his phone in the Duchess' direction. A little awkward, given it appears he was actually taking a selfie.