It's an agreed upon fact that doing your taxes is up there with some of the most despised life admin tasks, but if you're Meghan Markle you have both pending British citizenship and US tax law to contend with too.
All while trying to organise what will be one of the most-watched weddings of 2018.
It's for this reason it's suspected that Meghan Markle won't have access to rince Harry's wealth or royal assets even post-wedding.
According to US tax law – which boasts one of the most convoluted processes there ever was – even though Markle will become a British citizen after the wedding, it'll take three years for her to become 'naturalised' and during this period she'll still be required to pay taxes on any US investments or earnings she would have made during that financial year.
Sound pretty straightforward right?
However, this all gets trickier when you also have to factor in any trusts, stipends or allowances she might receive from the royal family which she would still have to pay US tax on, despite the revenue coming from a country outside the US.
LISTEN: Is Meghan Markle the role model young women need? We discuss why everyone is in love with Meghan Markle on Mamamia Out Loud. Post continues after audio.

This system differs from the Australian tax system where if you are an Australian resident you can only be taxed on your Australian-sourced income.
Things are further complicated because since Markle will earn over $382,000 (US $300,000) in the course of a tax year, she'll have to file a Form 8938, meaning she'll have to disclose the specific details of any earnings from the royal family's trusts and assets that are not public knowledge.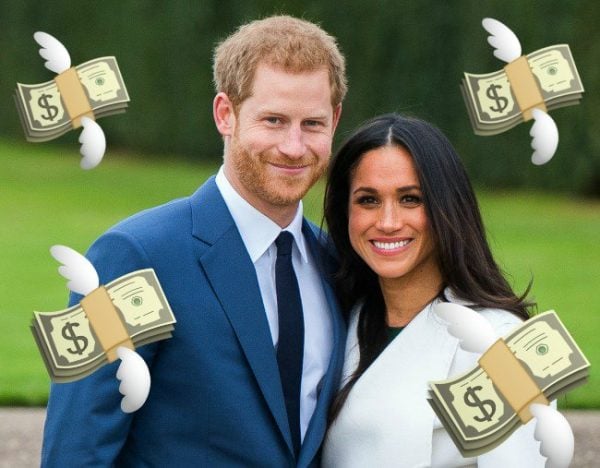 Speaking to The Sun UK, British and European royalty expert Marlene Koenig says there's a reason why the royal family would want to keep Meghan separate from the 'family books'.
"Prince Harry receives no public funding," she said.
"But it is possible there may be other family trusts that he receives money from — we don't know officially if the Queen has set up trusts for her grandchildren — it is possible.
"It's the same thing with some of the Queen Mother's money, there were rumours that there were different trusts set up, but that's not public information."
Despite this, whether she'll have to wait three years for the British citizenship to be confirmed, or not, you can rest assured that Meghan will be OK.
Prince Harry receives an annual allowance of $6.4 million (AUD), shared with the Duke and Duchess of Cambridge (side note: does this also mean shared transaction histories?), and also received half of Princess Diana's estate (roughly $36.2 AUD million) upon her passing.
It's also estimated the actress-turned-humanitarian has a net worth of around $6.3 million AUD (thank you celebritynetworth.com), and also made around $63,000 (AUD) for each episode of Suits. With the recent, final season totalling 17 episodes, we're sure she can pick up the tab here or there.
Let's be honest - she'll be fine. 
LISTEN: What Is Your Word For 2018? Mia Freedman, Holly Wainwright, and Jessie Stephens check in on how they did during 2017, and come up with a word to guide their every move in 2018.]
For everything Prince Harry, Meghan Markle and the Royal Wedding, visit our Royal Wedding hub.