Prince Harry and girlfriend Meghan Markle make first official public appearance as a couple.
The prince and Markle held hands on Monday as they walked towards Toronto's city hall and attended a wheelchair tennis event at Harry's Invictus Games for wounded veterans.
Both were dressed casually, the prince sporting jeans with a black polo shirt while his girlfriend wore a white button-down shirt with blue jeans ripped at the knee.
Markle, a Toronto-based actor, appeared at the games' opening ceremony this weekend, cheering from the stands while Harry sat four rows and a section away beside Prime Minister Justin Trudeau and US first lady Melania Trump.
The couple has been photographed together in the past but this is the first time they have appeared together at an official event.
The two sat together and took in a match of the wheelchair tennis between Australia and New Zealand at the small venue. Both wore dark sunglasses on an uncommonly hot sunny day for Toronto in late September.
They stayed forhalf an hour and shook hands with the athletes and Invictus volunteers. They left together hand in hand.
Markle, 36, recently told Vanity Fair they're in love. Harry, 33, has been dating Markle since last year. He confirmed the relationship in November when he complained about intrusive press coverage.
The Vanity Fair interview prompted British bet-maker Betfair to offer 6-to-4 odds that the couple is engaged by the end of 2017 and 3-to-1 odds that they marry in 2018.
Best known as paralegal Rachel Zane in the US Network legal drama Suits, Markle has appeared on General Hospital, CSI: Miami, Without A Trace and Castle. She also is a campaigner for gender equality.
The Invictus Games are the creation of Harry, who got the inspiration to help wounded and sick military personnel and their families after his two tours of duty in Afghanistan.
This is the third Invictus Games. About 550 competitors from 17 countries, including Australia, are slated to compete in 12 sports over the next week.
Anthony Weiner sentenced to 21 months prison for sexting 15-year-old girl.
Former New York congressman Anthony Weiner has been sentenced to 21 months in prison for texting sexually explicit messages and photographs to a 15-year-old girl - allegations that surfaced in September last year and caused wide repercussions, including within the presidential election.
"This is a serious crime that deserves serious punishment," Judge Denise Cote in New York told a sobbing Weiner as she handed down the sentence, People reports.
The court had heard how Weiner - father to a five-year-old boy - had used obscene language to ask the victim to send him naked photographs and touch herself.
This is the third such scandal Weiner has been involved in. In 2011 he resigned as a congressman because of similar allegations. In 2013, further revelations stopped him from returning to policitcs as a mayoral candidate.
And, last year, after the 15-year-old victim took her story to the Daily Mail, Weiner's computer was seized in a police investigation which also uncovered emails that triggered the FBI re-opening their investigation into Hillary Clinton's hacked emails - an announcement which Clinton believes contributed to her defeat.
Because Weiner pleaded guilty, he cannot appeal the sentence and will begin serving time on November 6. His name will also be registered on the sex offenders list.
Dustin Martin wins 2017 AFL Brownlow Medal.
Richmond superstar Dustin Martin wins the 2017 #BrownlowMedal with a record vote haul (Pics: AAP) https://t.co/3S4T3u3JMi pic.twitter.com/CiMGjyWP8H

— ABC Grandstand (@abcgrandstand) September 25, 2017
Richmond superstar Dustin Martin has won the 2017 Brownlow Medal after guiding the Tigers to their first AFL grand final in 35 years.
The midfielder earned a record 36 votes and became the sixth Tiger to win the AFL's most prestigious individual award.
The notoriously media-shy Martin kept his acceptance speech short and sweet but paid tribute his family, including his father Shane who was last year deported to New Zealand over alleged bikie gang links.
"He means the world to me," Martin said. "I'm sure everyone's old man is the same. He obviously has supported me and we have a special relationship."
"It's been really surreal the last couple of weeks. I wouldn't have thought in a million years I would be up here getting a Brownlow and playing in an AFL grand final so I'm soaking it up and enjoying it."
No player in history has won both the Brownlow and Norm Smith medals in the same year but Martin is a favourite to do just that.
His win last night adds to a remarkable year for the Tigers, who will break a 35-year drought when they face Adelaide in Saturday's grand final.
Singer Kate DeAraugo facing charges after found carrying ice and weapons.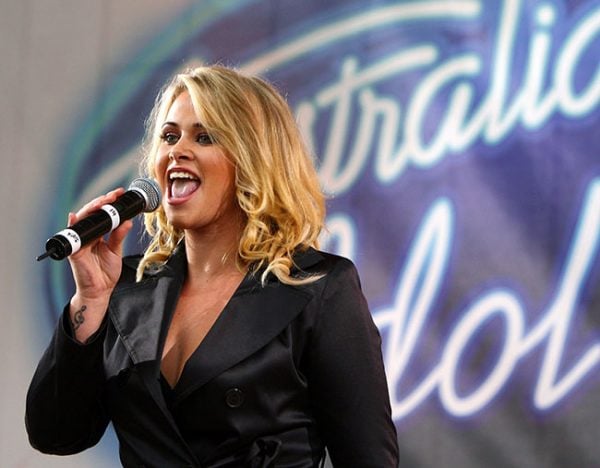 Former Australian Idol winner Kate DeAraugo is facing court after she was allegedly found carrying ice and weapons, Shepparton News reports.
The 31-year-old, who won Idol in 2005 and released her debut album A Place I've Never Been later the same year, was allegedly found with .41 grams of ice on June 10.
Five days later, she was apprehended by police again and found to be carrying a trafficable amount of ice, plus a large knife and tomahawk. Blood tests also revealed she had been driving with drugs in her system.
The singer is facing a total of six charges and her case has been adjourned to October 4 at Bendigo Magistrates' Court.
Music manager Tony Southwell, who gave DeAraugo a job as a backing singer earlier this year, told New Idea he is saddened by the news.
"It's very, very sad because she's a beautiful young woman with an incredible gift. She's had a really tough time, but I thought she was over all that stuff. This is awful."
Samuel Johnson is disappearing for a little bit. He will be back.
Actor Samuel Johnson is taking his first holiday in years to "rediscover what feelings feel like" after losing his sister, Connie, to cancer earlier this month.
He and Connie are the founders of Love Your Sister, a charity dedicated to raising funds for cancer research. In the lead up to her death, Connie and her Oscar-award-winning brother were relentlessly campaigning to help other cancer patients around Australia.
When Connie passed on September 8, Johnson said his work as a fundraiser and as "Australia's Head of Cancer Vanquishment"  has only just begun.
For now though, he needs rest.
"First week off since Con got diagnosed," Johnson posted to the Love Your Sister Facebook page. "Off to the river to try and rediscover what feelings feel like. Have instructed the team to take the week, but they've not been convincing."
"I'm out though. No phone, no nuthin. See you on the other side. Thanks for making it so beautiful. But with rainbows come puddles... I'll be sure to pack my gumboots."
Sisters sacked from Channel Seven, after one files a sexual harassment complaint against older male reporter.
Sisters @AmyTaeuber @SophieTaeuber complain of sexual harrassment & adverse action by Channel 7 https://t.co/KXcFM3iw12 #Fairwork #Medialaw

— QUT IP & Innovation (@QUT_IP) August 19, 2016
A former Channel Seven employee has released a recording showing she was allegedly unfairly dismissed from the company soon after filing a complaint of sexual harassment against an older male employee.
Adelaide cadet journalist Amy Taeuber, 27, reportedly complained to Channel Seven human resources about an older male reporter who had been commenting on her appearance, making inappropriate remarks about her marital status and calling her a lesbian, ABC reports.
Days later and Amy allegedly learned the company was investigating her for satirical memes poking fun at a Seven reality TV program published to a separate website by her sister Kate. Following this, Taeuber claims she was called into the news director's office and faced with allegations that she'd bullied a fellow cadet - who has since denied making any such complaint.
Amy - and her other sister Sophie, who also worked at Seven - were both reportedly suspended, their phones taken from them and escorted from the building.
"I feel like this is humiliating me for making a complaint in the first place, and it's really disgusting," Amy can be heard saying on the recording she secretly took with her phone during a meeting with the HR manager, at which a support person was not present - though this is required by law.
"This is disgusting. I've done nothing wrong. I've not done any of this and I'm requesting to have the statement of the person who made these allegations."
Last month both Amy and Sophie were reportedly sacked by Seven, The Guardian reports and now Amy is seeking compensation at the Fair Work Commission.
Seven Network has released a statement saying the HR team "did not try to build any case against Amy Taeuber and their investigation was not related to any complaint made by Amy about other staff".
Mums, it's time to talk to your daughters about breasts with the conversation linked to early detection.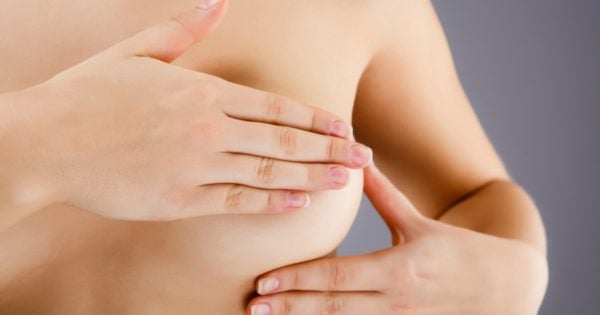 Encouraging mothers to talk to their daughters about their breasts could be the key to improving early detection of breast cancer, according to new research from the McGrath Foundation.
The second McGrath Breast Health Index shows women who first learnt about breast awareness from their mother are more likely to check their breasts regularly.
Despite the power of a mother's influence on her daughter, the survey of more than 1000 Australian women found less than a quarter (22 per cent) had recalled having had a conversation with their mothers about breast awareness.
Tracy Bevan, McGrath Foundation Ambassador and Director says like many difficult conversations that must be had between mother and daughter, the need to check your breasts is one of them.
"Everybody agrees that the conversation should start between mother and daughter not daughter to GP, or in school," said Ms Bevan. "It's about educating ourselves and getting the right information to pass it on to our daughters."