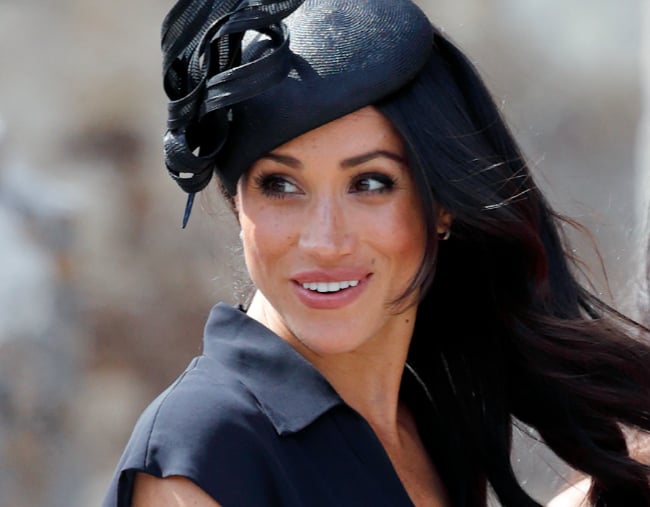 To catch up on all things royal family, make sure you check out our Royal Hub. We've got you completely covered.
As royal fans are eagerly anticipating a pregnancy announcement from the Duke and Duchess of Sussex, there's one easy-to-spot sign they should be on the look out for.
Before becoming a member of the royal family Meghan Markle spoke regularly in interviews about her beauty regime and in 2011 revealed that she used semi-permanent hair straightening treatments.
Meghan's mother is black and her dad is Dutch and Irish, so her natural hair is dense and curly.
"I've been getting Brazilian blowouts for a couple of years," she said at the time.
Royal expert and etiquette coach Myka Meier told The Sun that Meghan's hair may give away if she's pregnant before any official announcement.
"We don't know what she does to treat her hair now but it is likely she uses a keratin or a Brazilian treatment to straighten it," she said.
"As soon as she gets pregnant she will no longer be able to use those same products, which could be very interesting."
Let's hope @meghanmarkle wears her beautiful curls naturally!! #CurlsRock #MeghanMarkle pic.twitter.com/xtoetZvFAg

— Pollyanna ❌ (@Cocopuffster12) November 29, 2017
Brazilian blowouts incorporate a mix of keratin and formaldehyde, a toxic chemical which doctors strongly recommend women avoid during pregnancy due to perinatal risks.
Myka predicted we'll see Meghan wearing more buns when pregnant as she'll no longer be able to use the chemicals that help her achieve her signature glossy look.
Prince Harry has already said they hope to start a family soon however the newlyweds probably plan to wait until they complete their upcoming travel, a royal tour of Australia, New Zealand, Fiji and Tonga in October, before adding a bump into the mix.