Since the news of Meghan Markle and Prince Harry's engagement broke, the world has been obsessed with dissecting just how un-royal the latest royal-to-be is.
Meghan's an actress, for starters. She's from a mixed-race background, is an entrepreneur, an outspoken feminist, an activist and a divorcee.
If there's one thing about the 36-year-old that does firmly fit the royal mold, it's that hair. That Disney princess-esque, bouncy, so-shiny-you-can-see-your-reflection-in-it variety of hair.
Her secret? She's a huge fan of Oribe Dry Texturising Spray.
"When my hair is feeling a little weighted, Suanne, my hair artist on set, has me bend forward and she sprays a little Oribe Dry Texturising Spray or nothing at all, and then has me 'flip back hard' to give my hair a little extra bounce," Meghan told Birchbox recently.
Curious to see what was so special about this Meghan-Markle-approved product, especially one that costs a pretty hefty $63, I put it to the test.
As someone whose bathroom cabinet reveals a wasteland of volumising products that didn't live up to their hype, I wasn't expecting anything much.
My hair is thin and tends to enjoy clinging closely to my scalp, perennially afraid of voluminous heights.
But after shaking the can, flipping sections of my hair over to one side (see Meghan, I'm listening), and spritzing this stuff around 15 centimetres from my scalp (giving the area I sprayed a little rub with my fingertips afterwards), my hair instantly had a little of that "voom" sound effect going on.
No white residue. No crunchy feeling. Just an invisible lift.
The delightful thing about this product is that it's a multi-tasker. It adds volume to your hair, plus it's an effective dry shampoo.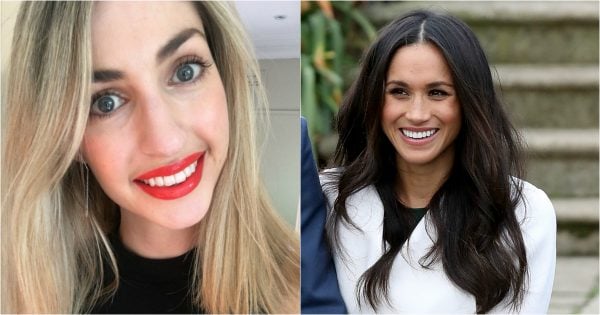 The secret's in the formula - patented polymers soak up the oil at your roots adding texture and helping your hair to reach lofty heights.
If you're someone spending a lot on volumising products and dry shampoo, this bottle will save you time and bathroom shelf space.
Another pleasant side effect of this spray is the scent. Unlike many sickly sweet-smelling options on the market, this stuff has such a pleasant, fresh fragrance I'd honestly buy it if it came as an eau de toilette.
My partner even commented that I smelt nice and I wasn't wearing my usual perfume.
Listen: Meghan Markle Is The Role Model Young Women Need. Post continues after audio. 
It's not a product you can pile on day after day. I needed to wash my hair the day after I used it as my scalp started to feel a little gritty, but it's a small price to pay for the gleaming results.
So aside from a mutual deep affection for Prince Harry, it would seem Meghan and I have something else in common: an appreciation for Oribe Dry Texturising Spray.
Edwina Carr Barraclough is a Sydney-based lifestyle editor and social media and content strategist. You can see more from her on Instagram or Facebook.