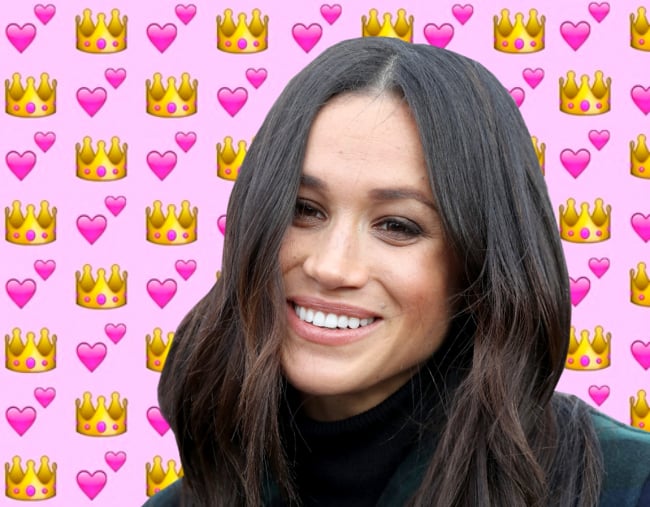 For everything Prince Harry, Meghan Markle and the Royal Wedding, visit our Royal Wedding hub. 
The royal wedding is fast approaching and so many things are still uncertain.
Who will walk Meghan Markle down the aisle? Will royal baby Prince Louis be there and how will Kate keep him quiet during the ceremony? Will Thomas Markle be OK, in general?
But one thing is abundantly clear…
Meghan's royal wedding day hair will be absolute perfection.
We know this to be true because not a single photo exists of the 36-year-old in which her hair looks anything less than effortlessly put together.
Except for that one time she was photographed with a single grey stray hair which was supposedly a feminist symbol, as discussed on Mamamia Out Loud.
Want to hear to more?  Listen to Mamamia Out Loud in iTunes, Android or on Mamamia.
We already know she uses Oribe Dry Texture Spray for volume. But what about her day-to-day shampoo and conditioner?
Enter Meghan's pre-royal makeup and hair stylist Lydia F. Sellers. She said the former Suits actress used (and probably still uses) the Kérastase Nutritive Oléo-Relax range.
"The Kerestasé relax treatment helps keep everything smooth," the hair stylist told Refinery29.
According to the brand's website, the Kérastase Nutritive Oléo-Relax range is "designed to make hair supple and irresistibly soft to the touch and targets dry hair symptoms at the core with a custom routine for three levels of dryness."
Unfortunately, Kérastase isn't the cheapest of hair care brands. This particular range isn't the easiest to get your hands on in Australia either. You can buy the Kérastase Nutritive Oléo-Relax Masque 200mL ($60) and Kérastase Bain Oléo-Relax Shampoo 250mL ($40) from Adore Beauty, and Kérastase Nutritive Oléo-Relax Treatment 125mL ($30) from Carethy.
The good news? Similar products from the same cult Kérastase brand are on sale right now.
You'll need to figure out which range is best for your hair type (we found this handy diagnosis quiz on the Kérastase website if you're curious), but you can safely bet on the quality of these products across the board. The closest matches to Meghan's products are any that start with Kérastase Nutritive and Kérastase Bain, as they're designed to add moisture to slightly dry to very dry hair.
Here are a couple of the Kérastase bargains we've managed to get stocked on Mamamia Shopping.