1. Meghan Markle's family once won the lottery. No really.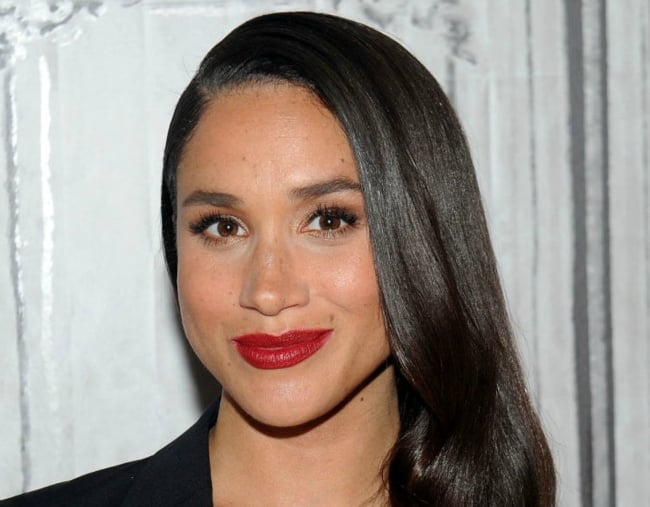 Uh, so we've pored over every minute detail of Meghan Markle's life (what moisturiser she uses! what tea she likes! what her nail polish means!) and somehow we missed the most important detail of them all:
Meghan Markle's father once pocketed $750,000 US ($990,750 AUD) from a freak lottery win that gave her the upper class education she needed to woo royalty.
"If Meg marries Harry she'll have won the lottery of life but dad winning the lottery helped us all," Tim Jr. (real name) told the Daily Mail.
"That money allowed Meg to go to the best schools and get the best training. Meg is someone who has always had laser focus. She knows what she wants and she doesn't stop until she gets it," he added.
The lottery win occurred when Meghan was just a teeny tiny nine years old.
The more you know, right?
Listen: The Vanity Fair cover and what the hell it means. (Post continues...)
2. We *kinda* know what caused Alex Nation and Richie Strahan's breakup.
Excuse us, but we have a very unimportant Alex and Richie - or Alchie, if you will (you won't) - update.
Bachelor 2016 'winner', Alex Nation, has alluded to the ~real~ reason she broke up with Richie Strahan earlier this year.
Responding to a comment on Instagram, the model and radio presenter wrote, "Richie is a great person, he'll still get his ever after.
"We both hoped for things to work, but life just is. Sometimes things in life simply don't work out for us. You cherish the nice memories and you move forward."
This is the most the pair have said on the break up, with Nation recently confirming her relationship with local AFL footy team mate, Maegan Luxa.
Talk about saying something without saying... anything.
3. Sophie and Stu are macking on in airports and WHAT IS HAPPENING PLEASE.
Sophie and Stu have been papped havin' a good ol' make out sesh at Sydney Airport, seemingly putting the rumours to rest on whether they are together or not.
Obviously, we aren't into pap shots, but the Daily Mail are.
There is a lot of PDA in the photos, a lot of smiles and cute matching couple outfits.
So apparently they're together… for today… but who knows what a source close to the couple will tell a tabloid magazine tomorrow? We'll keep you posted.
Moving on…
4. Behold: The jazzy sparkly sneakers Serena Williams wore to her wedding.
Practicality and comfort has been a winning combination for tennis super star Serena Williams, and naturally she followed suit for the wedding.
In a pair of bedazzled Nike sneakers. Naturally.
Celebrating with lots of dancing New Orleans style, Williams wore her sparkly sneakers with an equally fabulous brocade and feathered dress in her nuptials to Reddit Co-founder Alexis Ohanian.

The shoes worthy of a modern-day Cinderella were one of two pairs embellished by designer @merakimishell, who very impressively made both with under 24 hours notice.
Now that's a DIY project for the brave-hearted. You can even watch a video of the designer painstakingly gluing each diamante in her living room here:
5. Julia Stiles gives birth, names offspring 'Strummer' ¯\_(ツ)_/¯
Everyone's favourite 90s actress and eternal girl-next-door, Julia Stiles, has given birth to her first child.
The 36-year-old shared the happy news on Instagram on Wednesday, and in doing so, gave the world what it really wants – the bub's name.
"Strummer Newcomb Cook, born October 20, 2017. Thanks and ever thanks to the extraordinary Doctors, Nurses and staff at Mount Sinai for helping bring this utter joy into our lives. Hello, World!," the 10 Things I Hate About You actress captioned the sweet pic of baby Strummer's bub-sized hand.
The decision to give their baby the unusual name should come as a surprise to precisely no one, because, when was the last time you heard of a celeb baby named Jack or Susan?
Strummer (no judgement) is the first child for Stiles and husband, Preston J. Cook.