For everything Prince Harry, Meghan Markle and the Royal Wedding in one convenient place, visit our Royal Wedding hub.
Meghan Markle's older half-brother Thomas Markle Junior has shed remarkable insight into his relationship with the future princess and how their "fractured" family are handling the international news headlines following them.
In an interview with Sunday Night, Markle Junior said he wasn't aware he and his sister had ever had a falling out, but acknowledged he wasn't invited the upcoming royal wedding.
"I didn't even know that we had a falling-out, so I would like to see her again. I want to give her a hug and tell her how proud I am of her, but, you know, I really have to travel a really long way to do that."
Mr Markle lives in Grant's Pass, Oregon, and works there as a window fitter.
He told Melissa Doyle while the family may be "fractured", they are, by definition, still family.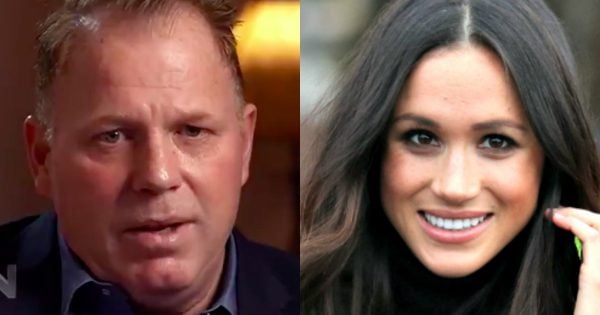 "She can't forget about her family, because we're never gonna go away [sic]. We're always gonna be her family," he said.
"She's probably embarrassed at some of the stories and accusations," he said, recognising the litany of stories in the press regarding the Markle family.
"I think now, more than ever, it should be the time for everybody to put their differences aside and just be a family. We have a small family. It may be broken up, but it's still a family."
We discuss why everyone is in love with Meghan Markle on Mamamia Out Loud. Post continues after audio. 

Markle Junior added his father probably isn't fond of the intensity of the media coverage regarding their family affairs.
"My dad just wants to be left alone. He doesn't like spotlight. He doesn't like anything ... interviews. That's why he moved down there, to just be alone.
"He's probably not happy. Well, you see the look on his face in those pictures that they finally got of him. So doesn't look very happy. And he's a really private person."
Regardless, Markle said he hoped his father was invited the wedding and will be able to walk his daughter down the aisle.
"I mean, he's gotta step up to the plate and walk his daughter down that aisle."