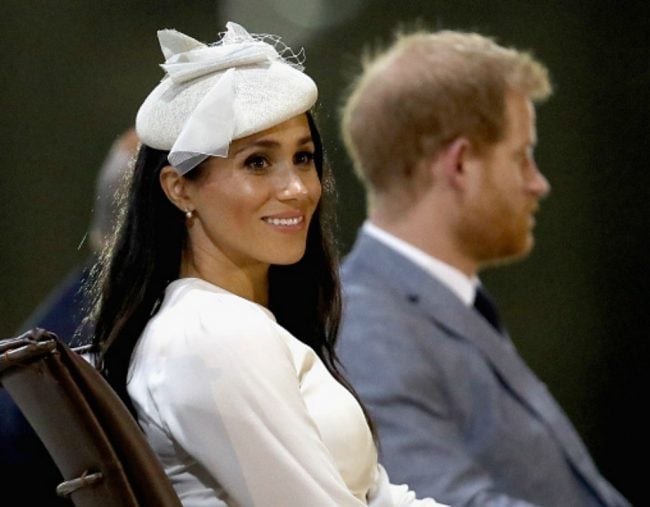 To catch up on all things royal family, make sure you check out our Royal Hub. We've got you completely covered.
Of the 83,496839 photos of Meghan Markle we've all seen over the last week, there's one image in particular that's started a conversation about pregnancy.
On Tuesday night, Markle attended a state dinner hosted by the President of Fiji, Jioji Konrote, wearing a Safiyaa Ginkgo cape dress in 'Fijian blue'. But as she stood beside Prince Harry, photographers captured the clearest image so far of the 37-year-old's growing baby bump – looking significantly more pronounced that it has in other photos.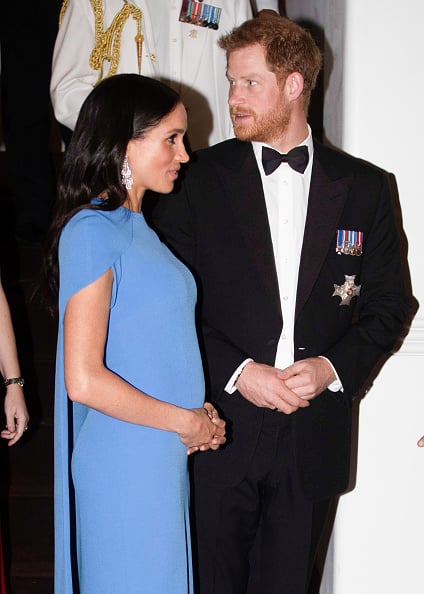 While holding a baby bump will always accentuate it, and clothing plays a role in how large it appears, many commented that Markle may have reached that stage in pregnancy where your belly 'pops', once your uterus rises above your pubic bone.
But, interestingly, there could actually be another factor at play: baby bumps often appear larger at night.
Many women anecdotally notice this throughout their pregnancy, with some sharing before and after photos of their bumps in the morning and at night.
Speaking to Trimester Talk, doula Susannah Birch suggested the change in size throughout the day could be related to the abdominal muscles. "At night time, your abdominal muscles are tired from holding your bump [and they] loosen as they grow more tired, which allows your bump to sit out further and appear larger," she said.