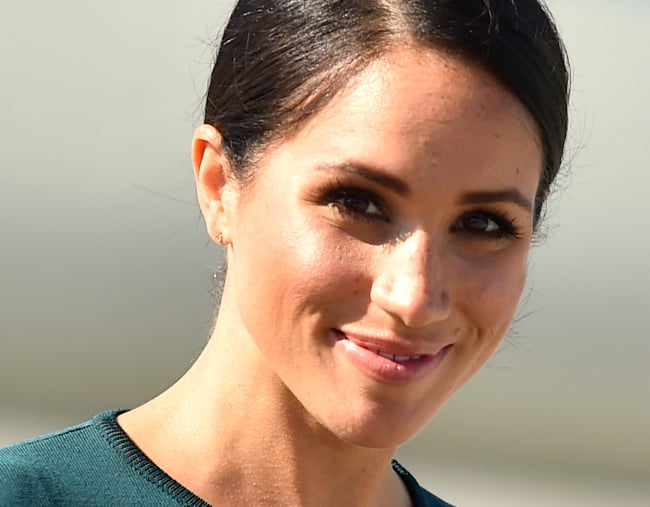 For everything Prince Harry, Meghan Markle and the rest of the royal family, visit our royal hub. It's a blast.
Uh oh. The Duchess of Sussex Meghan Markle has gone and supposedly broken royal protocol again by being a lovely person interested in basic human rights.
Ugh.
While in Ireland for the 36-year-old's first overseas royal engagement since marrying The Duke of Sussex Prince Harry in May, an unassuming tweet from an Irish politician led many to believe the former Suits actress broke protocol by expressing a political view.
Senator Catherine Noone, an Irish politician who also chaired the parliamentary committee that recommended repealing the Eighth Amendment prohibiting abortion, posted a photo of herself on her social media platforms chatting with Meghan on Tuesday at the British ambassador's residence in Dublin.
"A pleasure to meet Prince Harry & the Duchess of Sussex at the British Ambassador's Residence this evening," the Senator's revised tweet now reads.
A pleasure to meet Prince Harry & the Duchess of Sussex at the British Ambassador's Residence this evening. #harryandmeghan #royalcouple #meghanmarkle pic.twitter.com/yp2XHFh4MJ

— Sen Catherine Noone (@senatornoone) July 10, 2018
However, the original posts also included a line about Ireland's decision to remove the article criminalising abortion from its constitution in May 2018.
"The Duchess and I had a chat about the recent referendum result — she watched with interest and was pleased to see the result," it read, as per screenshots taken before the original tweet was edited.
The Queen will be cross! @princeharry211 in for an almighty dressing down when they go home I'd say @senatornoone pic.twitter.com/3r7KDGhKzw

— Luke Silke (@luke_silke) July 10, 2018
Immediately, royal watchers noted Meghan's alledged breach of royal protocol by expressing her support for abortion rights.
"The Queen will be cross! @princeharry211 in for an almighty dressing down when they go home I'd say," one user tweeted.
Addressing her decision to edit her original tweet, Senator Noone said it was misleading.
"I should say she seemed pleased — she was interested and very measured, not political at all. The Duchess was interested and charming and was not in any way political," she posted on Twitter.
"They were both just lovely, gave everyone time, completely appropriate and charming. I clarified – it was a very benign chat, she expressed no political opinion."
Long-held royal protocol says the royals should remain above the fray of politics, keeping their personal opinions to themselves. Since the 17th century, members of the monarchy haven't been able to vote and shouldn't favour one political cause over another.
The monarchy's website states: "As head of state, the Queen has to remain strictly neutral with respect to political matters."
Meghan knew this before marrying into the British royal family, but that doesn't mean she'll suddenly become mute on the issues she's spent most of her life championing.
We all heard about Meghan's first dabble in activism and feminism – the dish washing detergent commercial – in the many Meghan Markle TV specials leading up to the royal wedding. At just 11-years-old, Meghan was so infuriated by a sexist television ad for dish washing liquid that she wrote letters to Hillary Clinton and Gloria Allred about it. Eventually, the ad's slogan was changed.
Here's a montage of all the reasons we love Meghan Markle and her political voice. Post continues after video.
Before she became engaged to Prince Harry, Meghan described how she grew up "with a social consciousness to do what I could and speak up when I knew something was wrong," which she later brought to her work as an ambassador for UN Women and World Vision.
She was also a strong advocate for Hillary Clinton in during the 2016 US election, so much so, she said she would move to Canada if "misogynistic" and "divisive" Donald Trump was elected.
According to The Guardian, Meghan urged her followers to vote for Clinton, "not because she's a woman, but because Trump has made it easy to see that you don't really want that kind of world that he's painting".
As for commentary 'the Queen will be cross' with Meghan and Harry over this supposed breach of protocol, Her Majesty hasn't always paid such close attention to the rules. Most notably, Queen Elizabeth II was criticised for comments she made in 2014 about the Scottish independence referendum, CNN reports.
She was overheard telling fans and well wishers outside a church to "think very carefully about the future," which kind of sounds far more sinister than being pleased about abortion rights.
Whether or not it was Meghan's intention to get political with her comments (honestly, she was probably just trying to be nice making small talk with people she doesn't know, which we all know is a bit crap), we're here for it either way.
Because when it comes to women having the right to decide what happens to their own bodies, stuff protocol.
Do you think the royal family should still have to remain above politics in 2018? Tell us in the comments!