1. A pregnant woman was so poor, she nearly had to give up her baby. Then Megan Gale came along.
Model and mum-of-two Megan Gale has helped raise an insane $50,000 for a mum in need after sharing one Instagram post.
Posting a photo on Instagram on Thursday, Gale said she came across the cause in question on social media, asking her followers to donate to St Kilda Mums.
St Kilda Mums - a Melbourne-based charity who re-home new and pre-loved baby goods and nursery equipment to families in need - had initially shared the story of  a young mum on Instagram.
"This week we were asked to help a young Mum due in January," the St Kilda Mums post began.
"She had been considering adoption as she has no support from the baby's father or her own family. As her due date draws near, she has sought help from a social service to keep her baby. At this late stage in her pregnancy, and with little in the way of savings, she is not prepared to bring her baby home. She doesn't know anyone who can pass on their pre-loved baby gear.
"She does not want to give up her baby but she cannot afford the cot, pram or car restraint, let alone clothing.
"It doesn't need to come to this. You can help her bring her baby home," it read, asking for just a few dollars from those who could spare the money.
Once the message reached Gale, she made sure her followers read it. Within 24 hours, the organisation had been inundated with 826 donations, reaching a total $50,000.
Bravo, Megan.
2. Laura Byrne applied for the Bachelor as a joke, walked away with Matty J.
From almost the first moment they met, we knew Laura Byrne was the one for The Bachelor's Matty 'J' Johnson.
And yet she almost wasn't.
The Bachelor winner has told News Corp's BW magazine, she only applied to the show "as a joke" after a "few glasses of wine".
The 30-year-old said initially rejected the offer when a casting agent called her and she only agreed to take part hours before filming started.
At around 4am in the morning, she changed her mind. "It was just like, 'holy sh*t, I'm going to go into the Bachelor house," she said.
Damn, why haven't we ever made a joke like that?
3. Well that was quick? Selena and Justin are reportedly in 'couple's therapy'.
Is it too late now to say sorry? Long story short... YES.
Not even two months back into their tumultuous on-again off-again (off-again-again??) relationship, TMZ reports that singers Justin Bieber and Selena Gomez are in 'couple's therapy'.
Or, to be more specific, 'Christian couples therapy'. Eek.
23-year-old Bieber and 25-year-old Gomez are reportedly embroiled in drama after Bieber supposedly reached out to model ex-flame Hailey Baldwin, attempting to 'clear the air' following the bad break up.
Let's be real, though. What love triangle-ish/square-ish thing doesn't involve the Biebs?
Bieber told Gomez that reaching out to Baldwin was just part of "his new 'open and honest' approach to life". And, as expected because what girlfriend DOESN'T worry about exes, Selena didn't take it that well.
And not to put too many pieces of the puzzle together but... TMZ also reported that Selena's mum's hospitalisation could be caused by the couples therapy, erm, thing.
"When Selena revealed she and JB were in couples therapy, Mandy flipped … realising the relationship was going to be more long-term than she thought," TMZ reports.
We wish them the ~best~ with this on/off/on/off/on relationship.
4. Hamish Blake has revealed what he is 'wearing' on Christmas day and... count us out.
It's the biggest question on Christmas day aside from "how many roast potatoes am I going to eat?". Yes, what on earth do you WEAR (usually to accomodate said potatoes.)
Former radio host Hamish Blake has finalised his outfit and we don't think the grandparents will be impressed.
He posted a picture of his denim budgie smugglers onto his Instagram story today and let's just say this won't be a trend catching on.
Blake is currently in the Maldives with his wife Zoe Foster Blake and children Sonny and Rudi. Given the beach location, he can probably get away with his faux jean swimming trunks but if you're having a traditional Christmas celebration? Best leave it.
5. The designers behind Meghan Markle's engagement dress are Aussie, thanks very much.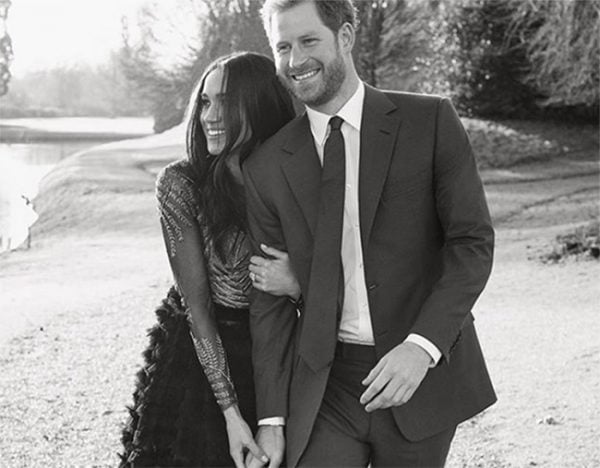 The world stopped (okay, not really but we did pause our scrolling for a brief second) when Kensington Palace shared some new photographs taken to celebrate Prince Harry and Meghan Markle's engagement.
And the dress she's wearing in the pictures? It's by an Australian designer duo thanks, rather than the 'English' brand as is being reported.
Tamara Ralph and Michael Russo, two Aussies now located in London, created her couture gown. Angelina Jolie, Eva Longoria and Kylie Minogue are also fans.
Proving she's all about style rather than fashion, Markle went for an older season dress, picking a tulle skirt and sheer bodice number from the label's 2016 autumn/winter collection.
But just because it's last season, doesn't mean it's discounted - it's still meant to have costed more than $100,000. Bargain?
Listen: The Mamamia Out Loud team on Meghan Markle's royal Christmas.