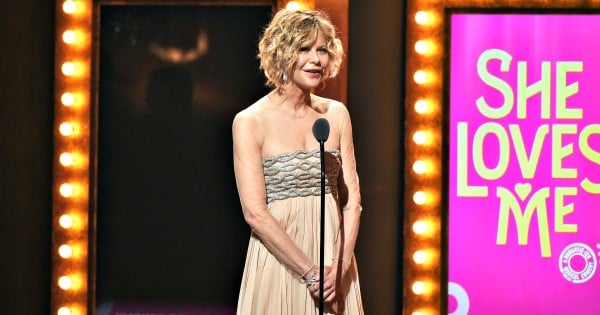 I'm calling it.
Meg Ryan got up on stage at the 70th Annual Tony Awards last weekend and instead of talking about the black actors who made history by winning all four musical acting categories, all anyone wanted to talk about was her face.
Ryan, who in her heyday was the perennial girl next door who bumbled through romantic comedies looking cute in oversized T-shirts and socks – had undergone something of a transformation.
With an enhanced pout and suspiciously smooth brow, she looked very little like the Meg Ryan we had come to love.
Listen to Mia Freedman, Kate de Brito and Monique Bowley discuss Meg Ryan's transformation. Post continues…
Social media lit up with commentary and criticism of Ryan's new look, just as it had in the past when other actresses were suspected of dabbling with cosmetic procedures. Uma Thurman. Courtney Cox. Kim Novak.
People said she had taken things "too far". Some likened her to The Joker. Some simply lamented the loss of her wholesome good looks.
And then, inevitably, others fired back, defending Ryan's right to do anything she wished with her face.
Part of me wanted to agree. Meg Ryan is her own person. Of course she is. She can do whatever the hell she wants to her face and body.
But still, I can't help feeling sad.
Not just for Meg, but for all women – for all of us who live in a society that tells us we need to look a certain way to be worthwhile.