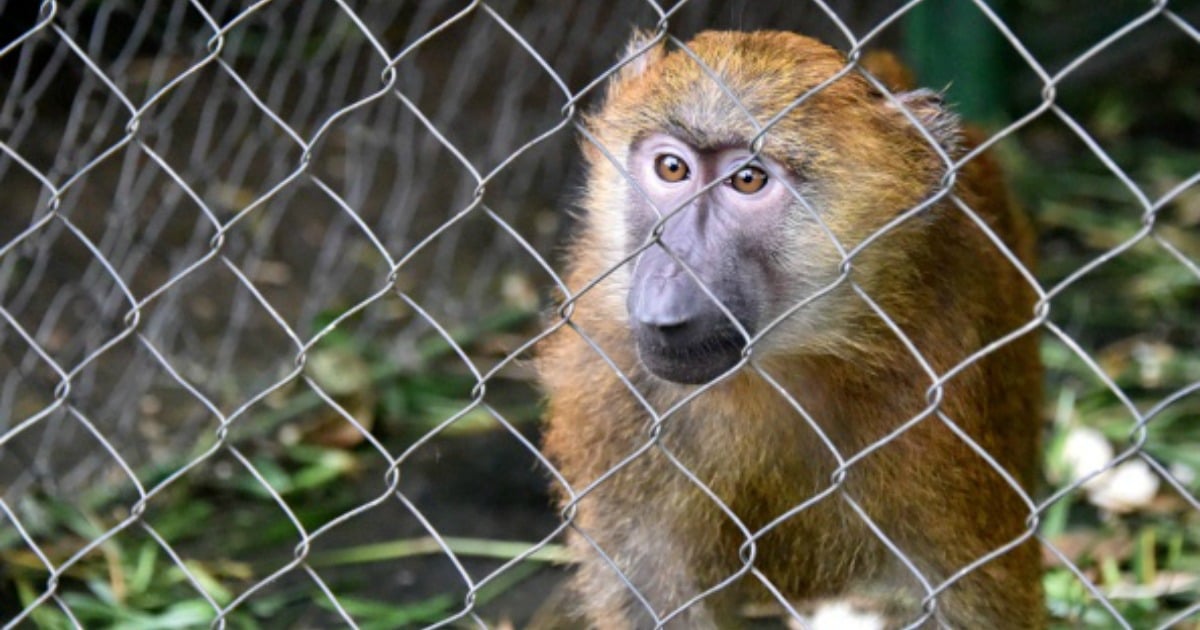 1. 'Frakenstein-like' medical testing being conducted on animals.
In an exclusive report, the Sydney Morning Herald has revealed the number of medical experiments being conducted on primates across Sydney hospitals and universities and in Victoria.
After a six month investigation it was found that masses of animals were being imported into Australia for experimentation or being bred specifically for medical research.
The National Health and Medical Research Council baboon colony, west of Sydney, were found to be testing their baboons, as well as marmoset and macaque colonies in Victoria. Harmful medical research on animals was also discovered at the University of Sydney, the Heart Research Centre in Newtown, Westmead Hospital and Royal Prince Alfred Hospital.
The Sydney Morning Herald writes that one baboon, Conan, was killed during an experiment where a genetically modified pig's kidney was inserted into his own body. Fairfax Media viewed information confirming Conan was 'humanely' killed in March, 2014, after suffering 'disseminated intravascular coagulation'. NSW Health denies that such organ transplants took place.
In experiments conducted at the University of Sydney, it was uncovered that at least eight marmosets were killed after being overdosed by researchers. The marmosets were being used for electrophysical readings of their brains, however, following their deaths, their eyes were removed and retinas dissected.
At the Heart Research Centre, Newtwon, one pregnant baboon died, leaving an orphaned child, as well as one baby, who were being tested on symptoms of pre-eclampsia.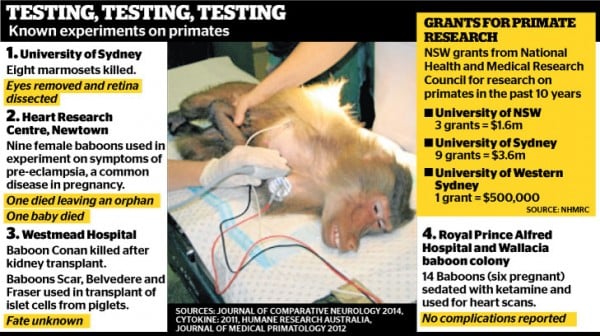 Representatives from the Royal Prince Alfred Hospital and University of Sydney have defended the use of primates for testing, alleging they were integral to curing a number of diseases.
"All researches would prefer not to use animals in their research," said a spokesperson for the University of Sydney. "However, in their quest to cure blindness, diabetes, cancer, epilepsy and many other illnesses, animal research is currently the best hope for finding a cure."
The University of Sydney also stated that all animals tested were under anesthetic during the procedures and were subsequently euthanased.
In further developments it is also reported that millions of taxpayer dollars is funding the alleged medical research.
The chief executive officer of Humane Research Australia, Helen Marston, said, "The industry is shrouded in secrecy despite the fact that it is funded with our tax dollars and few Australians are ever aware that primates are used in research here."
She also said, "The procedures these animals have been subject to are gruesome and could even be compared with Frankenstein-like experiments, and much of it is undertaken using taxpayer funds."
A senate inquiry into the importation of primates into Australia specifically for medial research is set to commence with the first report being delivered in March.
2. Canadian gunman shot two relatives before killing two more at school.
A family friend of the teenager suspected to have caused the school shooting in Saskatchewan, Canada, has alleged he first shot his two younger brothers.
"After he shot he two brothers, he walked back to school and he shot…a teacher and a girl. They're both dead. Four of them died," said Joe Lemaigre.
"I know the family. Their mother worked in Fort McMurray and his grandfather were to Meadow Lake to do some shopping. That's when he shot them."
Hundreds turn up for vigil in La Loche, Sask. https://t.co/zdPCfaQEB5 pic.twitter.com/T8wqwDf03n

— CBC News (@CBCNews) January 23, 2016
A government official has stated that the suspect killed two boys who are related to him, however, were not his brothers.
The 17-year-old has been charged with four counts of first-degree murder, however, cannot be named due to legal reasons. He is also charted with seven counts of attempted murder.
The community of La Loche, where the shooting happened, has been left devastated by the attacks.
"It's not something you ever imagine happening here," said Bobby Cameron, chief of the Federation of Saskatchewan Indian Nations. "The whole community, province and country has been affected we will all go into mourning. Right now, we're just in a state of shock and disbelief."
3. Anti-vaxx parents lying about children's immunisations to enroll them in school.
A report has revealed the number of parents who are lying to schools about their child's immunisation status to ensure they are enrolled.
Researchers from Edith Cowan University interviewed a number of anti-vaccination parents about why they chose not to vaccinate their children and the subsequent impacts it has had.
All the parents interviewed admitted they hadn't told any extended family members or friends their children were unvaccinated due to the stigma around it.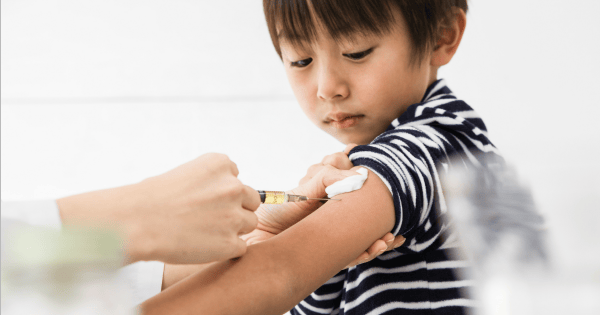 Bronwyn Harman, a researcher in the group, said, "They don't want the confrontation, they're tried of people questioning their choices, and they don't want to justify their decision, so they just don't tell people."
The researchers concluded that the increasing level of secrecy of anti-vaccination parents was further putting vaccinated children at risk.
"This is a huge problem if Australia-wide we've got a group of people choosing not to vaccinate their children and they're not telling people. We need to stop vilifying these people so they are able to identify themselves so we don't put people who do choose to vaccinate at risk," said Harman.
The report comes after the Federal Government 'No jab, no play' policy came into effect on January 1, this year.
The policy will not only eliminate parents who haven't vaccinated their children for childcare subsidies and Family Tax Benefit part A payment, but also mean their children can't be enrolled in NSW childcare centres.
4. George Brandis warned years before about the vacancy of sex discrimination commission. 
The Guardian Australia is reporting that in September 2013, Attorney-General, George Brandis, was first made aware about the urgency to appoint a new sex discrimination commissioner.
Freedom of information (FOI) laws reveal that when he first came to office, Brandis was provided with the number of roles that were currently or were soon-to-be vacant. Among them was the sex discrimination commissioner, which was due to end in September 2014.
Soon after, Brandis announced that Elizabeth Broderick term's as sex discrimination commissioner had been extended for another year, and officially terminated in September 2015.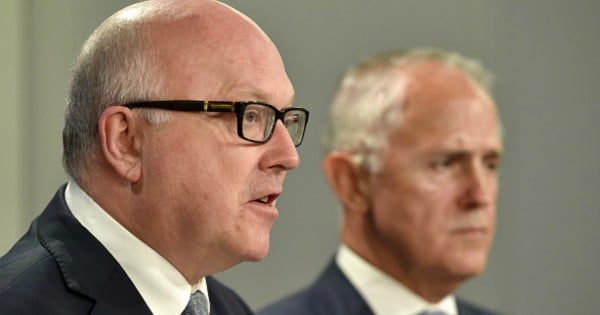 Gillian Triggs, president of the Australian Human Rights Commission, has for the past four months acted in the role, however, it is still to be filled.
Shadow Attorney-General, Mark Dreyfus, has criticised the Government's lack of action on the appointment, claiming women are now left without an advocate.
"We now know that Senator Brandis was put on notice of the need to appoint a new sex discrimination commissioner as soon as he took office more than two years ago, but almost five months after Ms Broderick's extended term expired Australia's women are still without a dedicated advocated," said Dreyfus.
"Senator Brandis' disregard for this important position is an absolute disgrace and shows this government just does not mean it when they describe themselves as champions of women's rights.
A spokesperson for the attorney general's office has stated the recruitment for a new commissioner is "under way".
5. 'Snowzilla' blankets the US, leaving at least 10 reportedly dead.
At least 10 people have allegedly died as a result of a deadly blizzard which has 'slammed' the eastern US, reports the ABC.
Officials have confirmed six people were killed in road accidents in North Carolina, with two others killed in Kentucky and Virginia.
Up to 60 centimetres of snow covered parts of Washington DC, with winds being recorded as "bone-chilling" and reaching up to 100 kilometres per hour in Virginia. New York Mayor, Bill de Blasio, has also reported that up to 70 centimetres of snow had blanketed the city.
The storm, which has completely exceeded predictions, is expected to affect about 85 million Americans and cause over $1.4 billion in damage.
At the moment, flooding is causing havoc through the country and is the primary concern of officials, says New York Governor Andrew Cuomo.
"Flooding is the real problem. Flooding does a lot of damage…its very dangerous and that's something we're very concerned about," said Cuomo.
Do you have a news tip? We'd love to hear it. E-mail us at: [email protected]