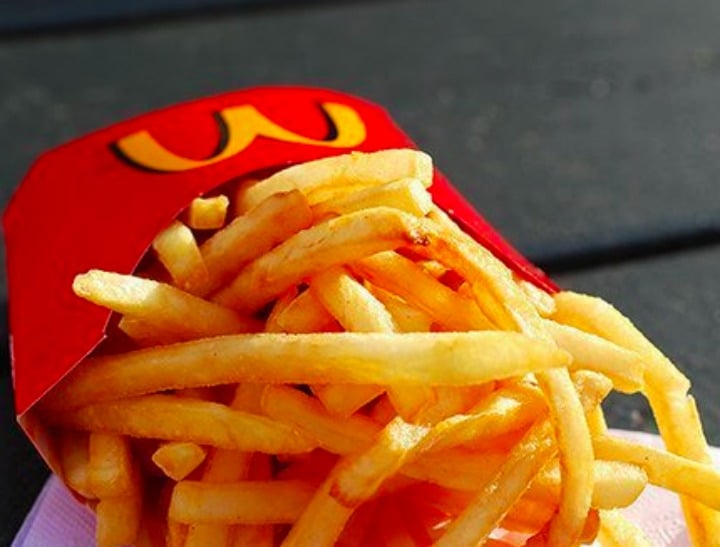 Yes, potatoes do make the ingredient list.
But it's not all good news. In January this year, McDonald's revealed what actually makes up those addictive little sticks of goodness – the French fry.
And we were surprised. Well, sort of.
Hidden beneath that mouth-watering crunch are 14 different chemicals. One of which is petrol-based (tertiary butylhydroquinone) and another is a silicone found in Play-Doh (dimethylpolysiloxane). Yes, we're serious.
Check out the findings here. (Post continues after video…)
With this in mind, the people over at Pop Sugar have created a recipe that excludes all of the nasty chemicals needed to cook French fries on an industrial scale.
Food blogger Brandi Milloy said, "Unless you plan on starting a franchise from your kitchen you don't need a lot of them [chemicals]."
While Brandi's recipe includes only five ingredients, we're still pretty impressed.
Take a look.
And here's the recipe in full:
Ingredients

2 potatoes
1/4 cup corn syrup
1 1/2 cups water
6 cups peanut oil
1/4 cup beef lard
2 teaspoons salt, to taste
1/4 teaspoon beef bouillon granules (optional)

Method

1. Peel the potatoes and cut into french fry shapes. We believe it's called 'julienne'.
2. Combine the corn syrup and water well before adding the French fries to the solution. Refrigerate for around 30 minutes.
3. While the French fries are bathing, heat the peanut oil in a deep fryer or pan until it reaches around 190 degrees Celsius.
4. Remove the French fries from the liquid and pat dry.
5. Next, carefully add the French fries to the oil and partially cook them until they start to turn a light golden brown. This should take a little over a minute.
6. Place the cooked French fries on some paper towel and refrigerate for 10 to 15 minutes.
7. During this time, add the beef fat to the oil and heat until it reaches around 200 degrees Celsius.
8. Next, fry the French fries for 5 to 7 minutes until they are golden brown.
9. Sprinkle with a little salt et voilà.
Bon appétit!
Still craving something? Try these out:

A delicious pulled pork recipe with coleslaw for the weekend.

The Best, Most Easy ANZAC Biscuit Recipe That Ever Existed.

Looking for some new cocktail recipes? We've got it covered.