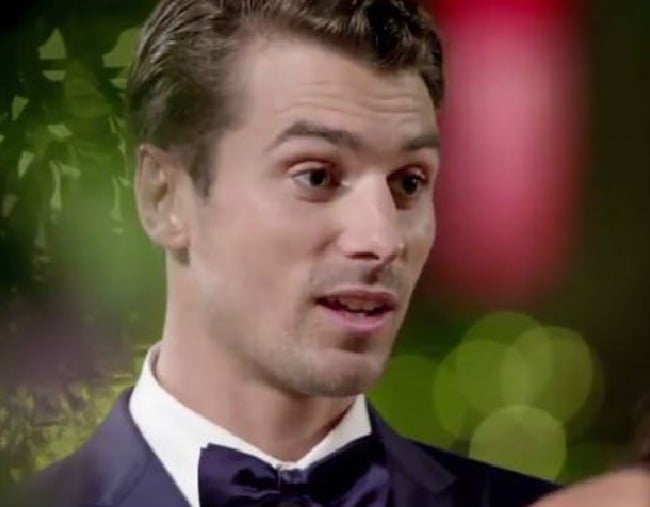 1. One of Matty J's Bachelorettes is pregnant and good god can 2017 slow down please?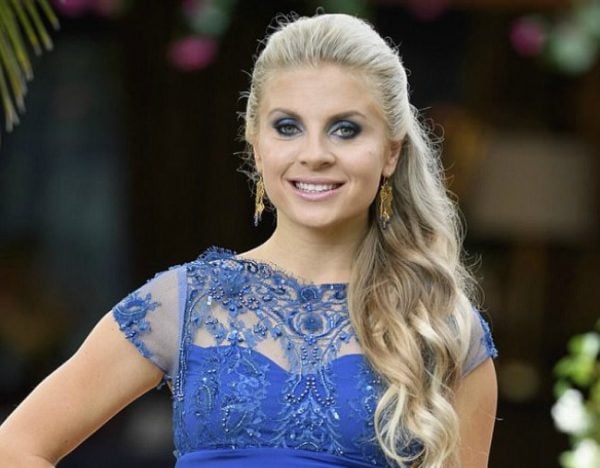 I mean, sure, we understand it's November and the year has flown and our lives are speeding by before our eyes but didn't Matty J go on the Bachelor like... yesterday?
Apparently not. In fact, the finale aired in September, filming wrapped in June after filming started in March.
Which means that yes, it's a perfectly fine timeline for someone to, you know, meet someone else.
What have...what have we been doing all that time?
Listen: Miss The Bachelor/ette? Reminisce with us below...
Rhythmic gymnast/ribbon thrower Akoulina Ktoiants, former contestant on Matty J's show has met someone, got engaged and announced her pregnancy since she appeared on the show.
Akoulina, who was eliminated from the show in episode three, announced on Instagram on Wednesday her and her fiance Robert Rollington are expecting a baby.
"We are expecting! Our baby is 12 weeks old and it was wiggling his/her arms and legs, I was completely speechless looking at the screen for the very first time. It was dancing in my belly and it made me tear up!" she went on, adding the hashtag #icantbelieveimgoingtobeamum.
Meanwhile, we've achieved nothing in the time since The Bachelor aired... we might still be in the same tracksuit pants, actually...
2. Is this Taylor Swift tweet appropriate?
Taylor Swift wields a certain power amongst her fans akin to demi-gods and minor cult leaders. This is a truth universally acknowledged.
US publication Marie Claire is currently experiencing this first hand, after their tweet about her apolitical stance during the 2016 election attracted a lot of 'criticism' from fans.
We're still waiting for an explanation of Taylor Swift's decision to remain apolitical during the 2016 election. #Reputationhttps://t.co/s69OdERtc7

— Marie Claire (@marieclaire) November 14, 2017

However, as a celebrity that has amassed a following for her championing of equality, feminism, and empowerment, surely Tump's sexist, homophobic, racist (you name it) comments would be subject of some kind of outrage?
Sorry @marieclaire I thought everyone was allowed their own opinion and the right of free thought? Seems your liberal mask continues to slip to show the actual fascism you campaign for

— Peter C. Barnes (@Barnesy19) November 14, 2017
We're wondering why Marie Claire is engaged in online bullying, and a gross attempt at invasion of privacy.

Besides, many of us would appreciate it if we could enjoy politic free entertainment.

— Fartina Stinkbait (@DontBeALeech) November 14, 2017
Why would you ever bully her to do this? When did you guys become these political partisan magazines?

— BriziDoesIt (@PersianKiss) November 14, 2017
After all, if we've learnt anything from this past year of the same sex marriage debate, gun law debacle, and general political madness (read: Trump), it's that to remain neutral, and not call out moments of injustice, is often seen as siding with powerful oppressors.
So, what do you guys think? Should Taylor get political?
3. Excuse us but we have something very important to share: Serena Williams is getting married this week.
Tennis star and all-round kick-arse woman, Serena Williams is maybe, likely, could-be getting married this week.
According to "sources" at Page Six, the 36-year-old will be tying the knot on Thursday. But, it may as well be an undercover mission because even the guests don't know the details. Reportedly, they don't know the location of the event, only to expect cars to pick them up from their hotel.
FANCY.
It has also been rumoured that the guest list will be filled with fellow celebs, including Kris Jenner, Kelly Rowland, Eva Longoria and wait for it, Meghan Markle. Oh yes, the girlfriend of the prince.
Guests have apparently been banned from taking Instagramming anything from the wedding, as Williams has signed for exclusive photos with Vogue.
4. Nicki Minaj is on the cover of a magazine having s-e-x. With... herself.
Wanna Minaj? @papermagazine ????:tongue: photos by @ellenvonunwerth #BreakTheInternet edition pic.twitter.com/0NmdzEb3Si

— NICKI MINAJ (@NICKIMINAJ) November 15, 2017
So Nicki Minaj did a thing that we're struggling to comprehend.
Appearing on the cover of Paper Magazine's latest issue, the rapper - well, more accurately, three of the rappers - are posed provocatively in various positions.
There's Nicki numero uno, who has blonde and pink hair, and is holding the breast of Nicki numero dos, who is looking like a queen with Nicki numero tres at her feet sporting Daenerys hair with her... tongue on Nicki numero dos' vagina?
Yep. It's bloody confusing. And uncomfortable. And we're not at all sure how to feel.
Considering Paper is the magazine that brought us Kim K's, erm, greased up bottom balancing champagne, we shouldn't really be surprised.
5. Kim Kardashian's new perfume is turning lemons into lemonade in real life form.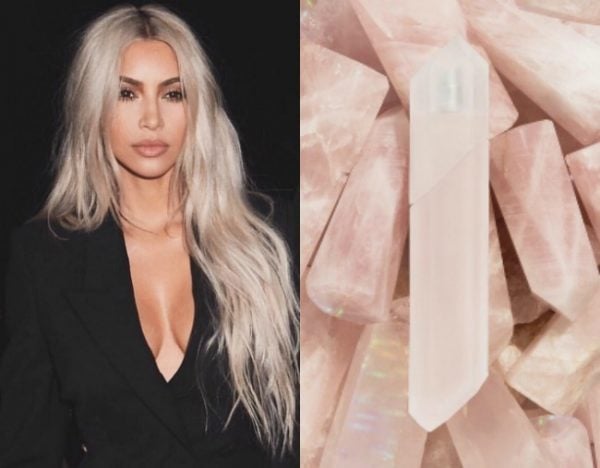 Kim Kardashian is taking the bad from her life (AKA the Paris robbery) and making incredibly pretty perfumes out of it.
The reality TV personality revealed this week that her new perfume line has been inspired by her ordeal of being robbed at gunpoint in 2016.
Shortly after the robbery, Kim's close friends would bring her healing crystals to help her nerves, which mimic the sleek crystal design of the perfume bottles in her new line.
"After my whole Paris situation over a year ago, all my friends would come over and bring me healing crystals," Kim told Entertainment Tonight.
"And I thought 'Wow' – this is like, I love having them in my home, I love what they mean and I actually feel really calm."
Because who else but a Kardashian could turn horror into in sweet, sweet dollars? They ain't nothin' but clever, we give them that.
What's your favourite celebrity story of the day? Let us know in the comments...