KIIS FM have prematurely dumped two of their biggest shows a week before both were due to wrap up.
National drive duo Hughsey and Kate received a phone call after their show on Friday informing them that day's show was their last, while Melbourne breakfast duo Matt and Meshel received the same phone call on Friday morning after their own show.
The news meant both radio duos were robbed of the opportunity to say goodbye to their loyal listeners. Their last shows were originally scheduled for December 8.
Next year, Hughesy and Kate will jump ship to Southern Cross Austereo, hosting the drive slot vacated by the outgoing Hamish and Andy. Matt and Meshel, however, were axed earlier this year for the incoming NZ duo Polly 'PJ' Harding and Jase Hawkins.
In a statement to News Corp, Meshel Laurie said her team was blindsided by the call.
"I can only wish the new kids luck, they'll need it," she said on Sunday.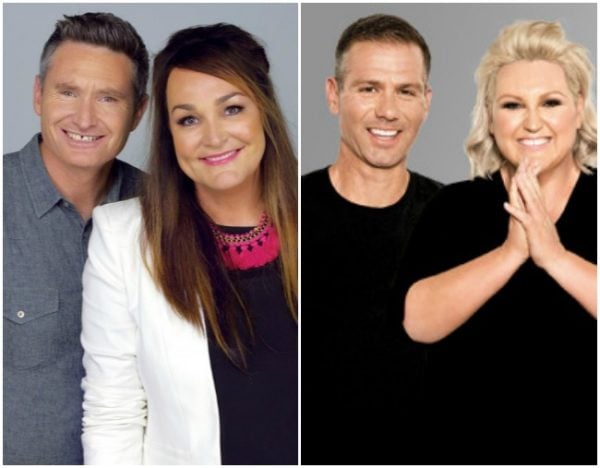 "Obviously the company didn't trust any of us with a proper farewell, which is pretty offensive given the experience of the broadcasters involved.
"None of us has ever acted with anything less than full integrity, honesty and commitment which is unfortunately not what we received in return."
"It was a bit of a shock but I can't say I'm unhappy to be on holidays earlier than expected!"
Posting on Facebook, Laurie said "it's been a deeply weird two years" made easier by their "brilliant" immediate team who "made the daily grind survivable".
Posting on Instagram, Hughes said he and Langbroek were looking forward to starting fresh next year.
"Call has come thru [sic] that this bunch of @hughesyandkate legends just had their last Drive shift ARN.
"We've loved working with so many great people there and are pumped to start with @hitnetworkaus in 2018!"
Hughesy and Kate will be replaced by Perth hosts Will McMahon and Woody Whitelaw.
In a statement given to The Herald Sun, a spokesperson for ARN gave a rather curious explanation for the early exits.
"The KIIS studios were due to be renovated later this year. With both Matt and Meshel, and Hughesy and Kate, due to finish up with KIIS on December 8, it made sense to give them a couple of weeks off early and bring forward the renovations," an ARN spokesman said.
The news of the premature exits of both radio duos comes just a week after GOLD 104.3 axed the Jo and Lehmo show despite winning their FM breakfast timeslot that same month.
"Jo & Lehmo are professional, talented and entertaining broadcasters who have made a significant contribution to Gold 104.3 over their time with the station. Jo & Lehmo will remain on air until the end of 2017, with further details of the plans for Gold 104.3 to be announced shortly," national content director Duncan Campbell said in a statement this week.