Former Masterchef contestant Heather Day churned up the water in Tuesday night's episode of Shark Tank while pitching her artisanal flavoured butter brand.
The top-ten finalist from South Australia impressed the millionaire judges with her free samples, but once it got down to numbers, tech investor Steve Baxter lost his appetite.
When Day predicted she'd only be able to improve on her current output of 3,200 portions per month by 600 in the next three years, the shark bared his teeth.
"I call that gutless," he said to a visibly uncomfortable Day.
But the cuts weren't just aimed at the budding entrepreneur.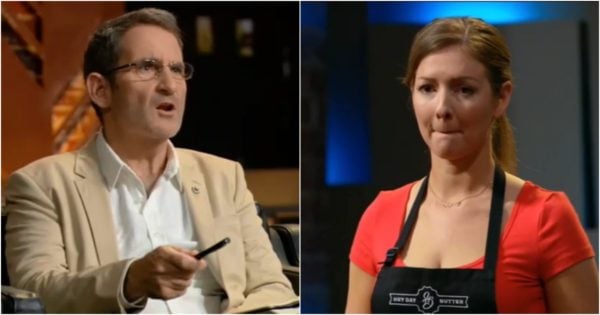 When fellow panellist Naomi Simson offered Day $50,000 for a 33 per cent stake in Hey Day Butter, he quipped, "That's not a bad deal. Except it come from Naomi. There's an issue there."
Even when he was trying to win Day over with his offer Baxter couldn't resist taking aim at his competition, and Glen Richards was next.
When the Greencross vets founder and managing director criticised his offer ($50K for 25 per cent stake, with half to be paid back as a royalty) as "crazy" and said that he was simply "giving her money then taking it back", Baxter offered the following advice to Day.
"If you are after some cat food, you ask Glen."
Perhaps unsurprisingly, at the end of the kerfuffle Day ultimately shook hands with Simson, walking away with a deal and "a real confidence boost".
"I've got such a girl crush on her," Day said afterwards. "To have her as a mentor is going to be unbelievable."
What's your favourite pitch on Shark Tank? Tell us in the comments below.