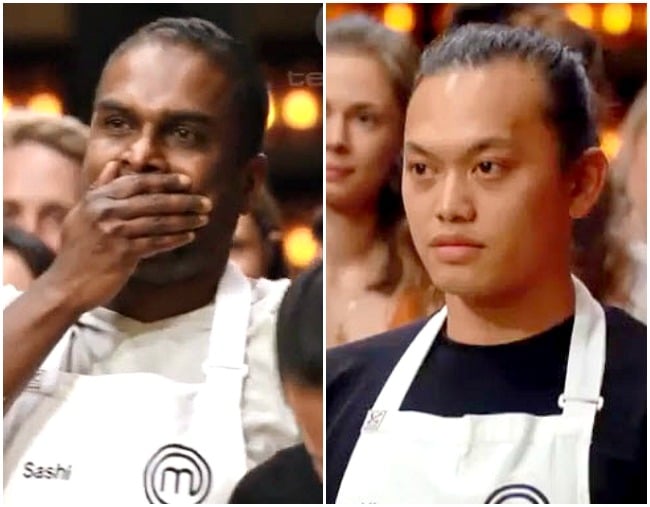 Warning: Spoilers ahead. If you don't want to know who makes it into the Masterchef finale, we'd suggest you stop reading.
Watching other people cook on television is practically Australia's favourite national past time and last night the Masterchef grand finalists were decided with a result that left fans of the show divided.
The final three contestants – Sashi Cheliah, Ben Borsht and Khanh Ong – were asked to cook for 60 Masterchef alumni, each cook required to make a main course and dessert for 20 past contestants. Some familiar faces included season one winner Julie Goodwin, and Ben Milbourne, Elena Duggan and Hayden Quinn.
Celebrated chef Shannon Bennett, of Melbourne's famous Vue De Monde, was also present offering his guidance to the contestants.
While all three cooks struggled with preparing their food before the end of service, Khanh's sub-par canh chua ca (a traditional Vietnamese fish dish) and violet ice cream, honeycomb and dark chocolate mousse ultimately excluded him from the final two.
However when it came to tasting, some fans accused the judges of showing favouritism towards Ben, who has developed a reputation for consistently cooking with fish.
you expected more from Khan's complex dish but raved about Ben's simple fish and two carrots that he does every episode? what!!!! #MasterChefAU

— isabel❓ (@isabelkatfm) July 30, 2018
George : 'I love Ben the most'

Gary: 'No I love Ben the most!'

Matt: 'I wore purple because it's Ben's favourite colour'

— Dave (@davey0511) July 30, 2018
What does everyone think of Ben's fish dish(s) Inventive or same same but different? #MasterChefAU pic.twitter.com/l72N1yx2lk

— Shirley (@Sparkytang) July 30, 2018
One moment they say Bens dish is basic, classic and minimalist which is wonderful and they falling over with praise.
10 minutes later they say Sashis dish was not sophisticated enough?

They should rename #MasterChefAU to Master(biased,rigged,scripted)Chef Australia…

— RuraPenthe (@RuraPenthe0) July 30, 2018
Take a look at Khanh's best hits on Masterchef:
Other fans, although in the minority, were happy with the final two and expressed their excitement ahead of Tuesday night's grand finale, which will see Sashi and Ben recreating a dish designed by internationally renowned chef Heston Blumenthal.
Yeeeeeeees. A #MasterchefAU final where I'm happy whoever wins. Love Ben and @sashi_cheliah.

Bring on the final @masterchefau pic.twitter.com/soQ9i1Q0pP

— James Tarry (@JT__photography) July 30, 2018
Ben realised pan frying the fish would be a risk and bakes them, while Khanh overheats the pan and burns his fish. Yet people just like to hate Ben #MasterChefAU

— BSV Dheeraj (@dheerajbsv13) July 30, 2018
So pleased @sashi_cheliah made #MasterChefAU final. He HAS to win, his cooking is so multi-dimensional. pic.twitter.com/H0FPTWhcGq

— Nicola Marsh (@NicolaMarsh) July 30, 2018
Ben deadset looked like he was going to faint in that finale preview!!! Tomorrow is gonna be very exciting! #MasterChefAU

— annelise // "the australian!!!!" ✨✨✨ (@islandbreezeee) July 30, 2018
The Masterhef Australia finale will air on Channel 10 on Tuesday night at 7:30pm.
Were you happy with the final two result? Tell us in a comment.
Want to be part of something BIG? Want to help make the world a better place for women and girls? Plus go in the chance to WIN $100? Take Mamamia's survey now!