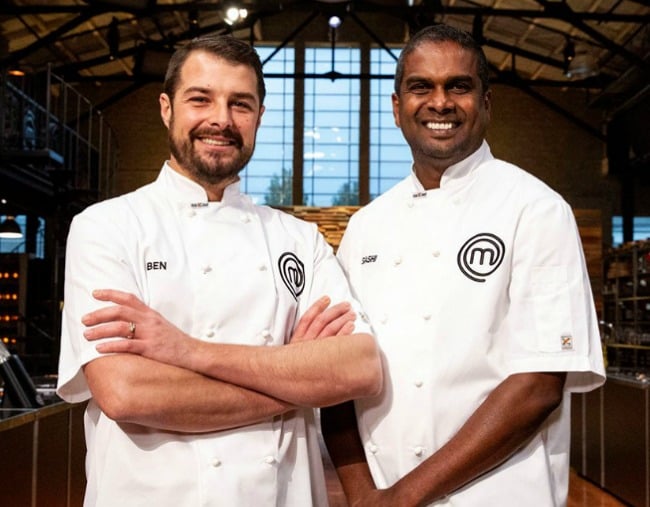 After months of braising, deglazing, and infusing, MasterChef 2018 finally came to a cooking climax tonight.
Sashi Cheliah and Ben Borsh went head-to-head in a nail-biting grand finale in the MasterChef kitchen.
And then Sashi was crowned MasterChef 2018 while scoring a record breaking 93 points – the highest score ever seen in a grand finale.
He beat Ben by a whopping 16 points.
"MasterChef has been an amazing ride for me. I never thought I would come this far in the competition and to win is icing on the cake. I would like to take this opportunity to thank the judges for their guidance and motivation, which has helped me develop into a better cook, and to Shannon who was a great mentor during the immunity challenges and semi-final," he said.
Congratulations @sashi_cheliah, Australia's #MasterChefAU for 2018! ???????????? pic.twitter.com/Fp6WEmMuV8

— #MasterChefAU (@masterchefau) July 31, 2018
"MasterChef has given me the opportunity to work with great chefs from around the world, and I have made great friends that will be cherished for the rest of my life."
On behalf of the judges, Gary Mehigan said: "Every year we have our collective fingers and toes crossed that the last person standing, the winner, will be a fabulous ambassador for MasterChef Australia. Sashi, you have proven yourself to be a brilliant cook, a creative thinker, a team player, a determined, kind soul with a dream to change your life and forge a new future in food.
"More than this however, you are someone we have fallen in love with, someone we admire and respect, who has carried themselves wonderfully throughout this competition. You have left your mark on everyone you have met and we couldn't be more thrilled and proud.