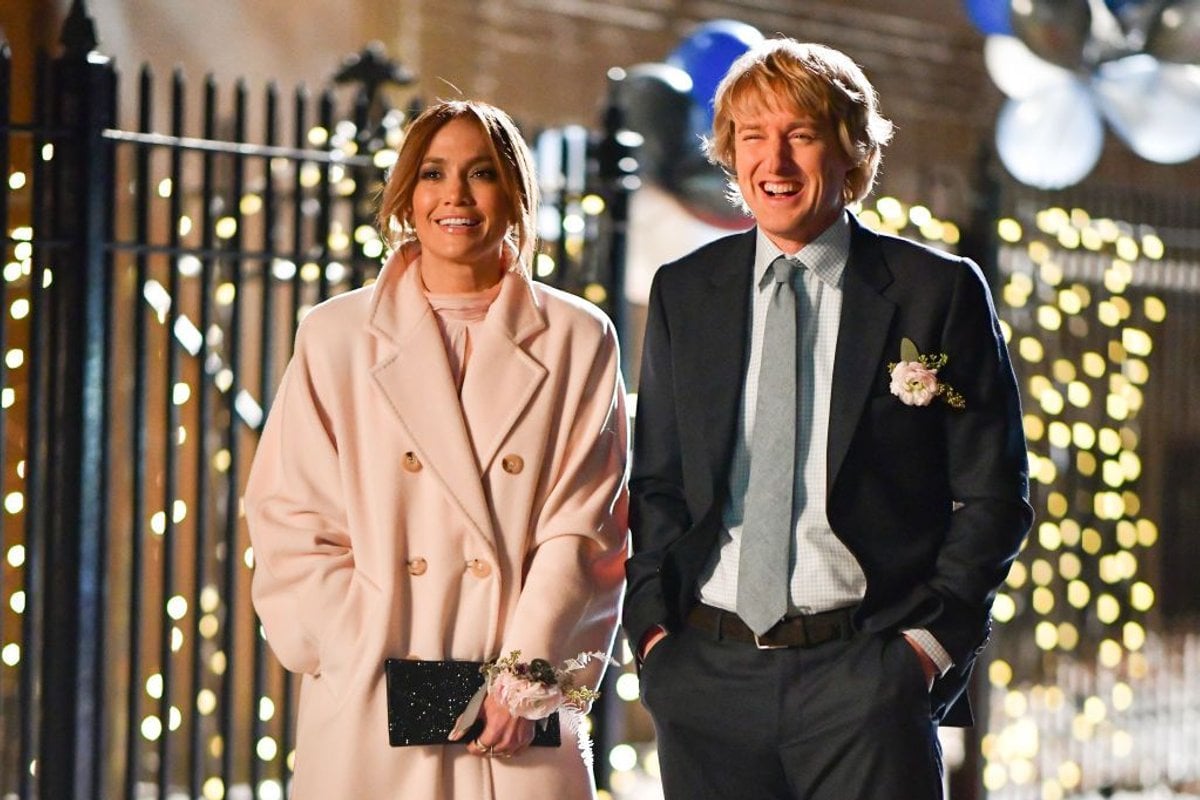 There was a moment in the early noughties when romantic comedies hit their peak. 
We'd fallen in love with Meg Ryan and Billy Crystal's chunky knits and witty banter in When Harry Met Sally. 
We'd watched a wholesomely awkward Hugh Grant bumble his way into a relationship with Julia Roberts' Anna in Notting Hill. 
We'd felt warm and fuzzy inside when Mark Darcy told Bridget Jones he loved her 'just as she is' in Bridget Jones' Diary. 
Romantic comedies had become a staple at the box office and in our own personal DVD collections.
Watch the trailer for Marry Me. Post continues below.
We knew exactly what we were going to get when we sat down to watch a rom-com and for the most part, they delivered.
They offered the perfect balance of rom and com. They were comforting and fun. And they made us believe in magic if only for the 96 minutes of running time.  
Then somewhere around 2010, romantic comedies began to shift.  
The comedy soon began outweighing the romantic, and frat boys ending up with women way out of their league, plus a plethora of penis and poo jokes, started dominating the genre. 
There's only so many explosive diarrhea storylines you can sit through before you start to wonder whether we've all lost our way a little. 
I believe that last great romantic comedy was 2013's About Time. It had it all - quirky British comedy, Rachel McAdams' whimsical face, an awkward British male lead, Bill Nighy, and just a touch of time travel. 
After About Time, things in the romantic comedy universe began to rapidly go downhill. 
In the last few years, romantic comedies have made a bit of a comeback on streaming services. But unlike the classics, they're often cheaply made and lacking in magic. They're meant to be quickly consumed and easily forgotten. 
They don't produce the one-liners and memorable moments like a Nora Ephron or Nancy Meyers' film was guaranteed to.  
Now don't get me wrong, the classic rom-coms had much room for improvement. They were mostly exclusively about thin, wealthy white people falling in love with each other. There was very little racial or body diversity, and Jennifer Lopez remains the only woman of colour to compete in a market saturated with Sandra Bullocks and Reese Witherspoons.