Married at First Sight's Nicole and Keller were meant to be the unlikely fairy tale couple of this season.
Keller, a heavily tattooed, 26-year-old former Navy worker won us over at his 'wedding', with his sense of humour and warmth towards his new bride and her family.
As we got to know him more he was dorky and charming and charismatic. We learnt his family has fostered children for 12 years, and he loves kids. He fell for Nicole instantly, and made their honeymoon in the Cook Islands look genuinely fun, dressing up in a coconut bikini and dancing in front of complete strangers. He was honest about the fact that no one drinks red wine for the taste. Who doesn't want that?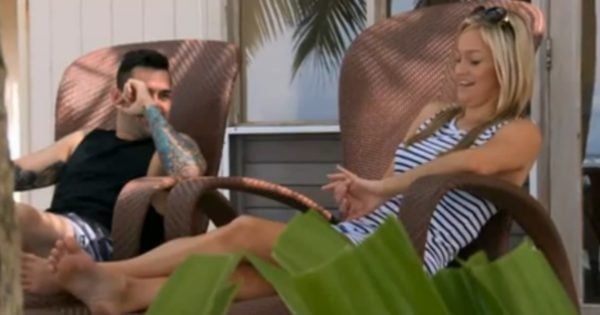 But on Wednesday night, the fan favourite did something unexpected. At a dinner party with all the Married at First Sight couples, he snapped at Bella, who had shared that she and her experimental husband, Michael, had slept together after one night. She said she was open about sex, having had lots of relationships in the past.
"I bet you have," said Keller. "After sleeping with a guy after one night, I bet you've been in a lot of relationships."
That's where it started - and it ended with Keller trying to physically fight Michael.