1. Married at First Sight's Gab may be dating Sean now.

Gabrielle isn't wasting any time crying over Nasser after Sunday night's commitment ceremony.
Even though things didn't work out between Gab and her partner on the show, the 44-year-old hinted she may have a new partner… Sean.
Sean, 39, was also on this season's Married At First Sight, having been unsuccessfully paired with Jo.
"Sean from Adelaide – he's one person that I've become very firm friends with. He's a great bloke," she told TV Week in an interview.
"This is a very intense emotional journey that you go on together. Nobody else can really understand until you've been there and done it. So it really does fast-track friendships to being quite close."
One person Gab isn't friends with is Nasser, 50. Despite them both saying they wanted to maintain their friendship after the experiment, Gab says she hasn't heard from him since the commitment ceremony. Ouch.
Despite rumours of a romance with Sean though, Gab did keep things cryptic on Instagram, saying she is yet to meet her "Mr."
"To you, yes Mr you… the gorgeous, masculine, kind hearted man of my equal that I just haven't met yet…" she wrote on Instagram on Sunday.
"I'm still looking for you so please keep searching to find me…"
2. Kris Jenner has revealed which of her six kids is her favourite.

Most parents, when asked which child is their favourite, will usually give a diplomatic answer, like: "I love them both the same." But not Kris Jenner, who is in an entirely different game all by herself.
And Kim Kardashian had better watch her back, because Kris, 62, says there's a new favourite in town… Khloe Kardashian, 33.
"The last couple days it's been Khloe. She's on the favourite child list. Her and I have been bonding and shopping for the new baby," she confessed during an interview on KIIS 1065's Kyle & Jackie O, as reported by Daily Mail.
But she did admit it could be Kim again tomorrow. Or Kourtney. Or Kendall. Or Kylie.
"Well… it changes every day. Anybody who's a parent to a lot of kids knows… it depends on the day since there's a lot of dynamics in a mother/child relationship," she added.
3. Married At First Sight's Mat and Alycia apparently had an epic fight that wasn't aired on the show.

Despite being one of the first couples to leave Married at First Sight, the drama that brewed between Matty Lockett and Alycia Galbraith was explosive, to say the least. But according to New Idea, the couple's most vicious fight was one we didn't see. 
An insider allegedly told New Idea the former couple had a "ferocious row" that got to the point where Mat had to be "escorted" away from his on-screen wife Alycia.
"He was really yelling at her… they left the show the next day," the 'source' reportedly said.
New Idea also claimed to have read leaked texts between Alycia and her fellow MAFS brides Gabrielle Bartlett and Tracey Jewel, in which Alycia shared her disappointment over how much of her footage was edited down.
"My footage was edited to the extreme. I am really, really angry hey," she allegedly wrote.
4. Bachelor In Paradise stars Keira Maguire and Jarrod Woodgate have probably moved in together and… okay sure, why not.

He's rumoured to have proposed to former Bachie 'villian' Kiera Maguire on Bachelor In Paradise and now it seems Jarrod Woodgate has invited Kiera to move into his Melbourne home.
On Monday, NW Magazine reported the 'engaged' couple were living together with 'sources' reportedly telling the magazine that Kiera had already packed her bags and moved to Jarrod's hometown.
Rumours of the pair's engagement grew last month when a Bachelor In Paradise show promo revealed a man, thought to be Jarrod, getting down on one knee to propose.
We need to see Bachelor In Paradise ASAP to analyse this please.
5. So Sophie Monk is supposedly being encouraged to date Davina Rankin's ex-husband.
It's a weird life when you swim in the messy, complicated, weirdly inter-connected waters of the reality television romance fishbowl.
According to Woman's Day Ryan Gallagher's parents have their match-making eye on none other than Bachelorette and Love Island host, Sophie Monk, and to be honest… we can kind of see it.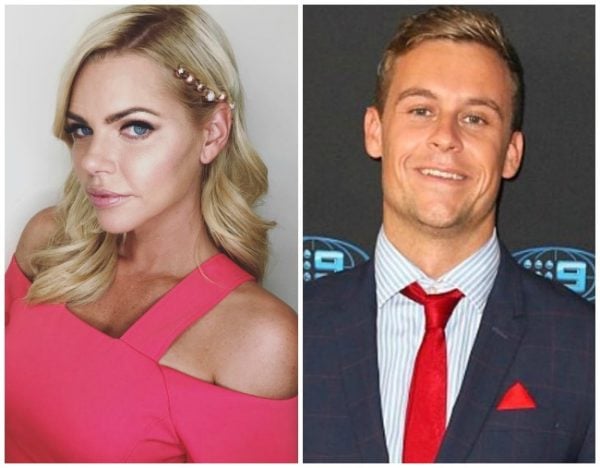 For on thing, Sophie lives in Sydney and so does Ryan... so that's a geographical match, and the tradie has previously spoken to The Fix on how he thinks she could be his "ideal girl."
"My ideal girl is Sophie Monk," he said.
"I love a girl that's just herself, and who doesn't have to wear makeup all the time... I don't like fake girls. Never have, never will."
Sophie broke up with The Bachelorette winner Stu Laundy in January, so she's single.
Reality TV gods, please make it happen.
This episode of Mamamia Out Loud: Everyone Has A Get Off Scream, Mia, Rachel and Jessie talk about the viral sex column about masturbating after sex, Swedish death cleaning and just not being a morning person. It's a thing.